I have written about the Vowel-Smith house (pictured above) in previous articles. It was part of a group of large Alexandria homes seized by the Union Army to be used as hospitals during the Civil War. Those have been well documented by the City of Alexandria here.
The Vowel-Smith house at 510 Wolfe Street became the Wolfe Street Hospital. It still stands and was attorney Francis Smith's home before and after the War. There, he is said to have explained the bad news to his most famous client, Robert E. Lee, that he would not be getting his home back. Lee's home, Arlington, became Arlington National Cemetery.
On August 7, 1862, Joseph Warren Marden was apparently a patient at the hospital, and he wrote to his parents in Stoughton, Massachusetts. He was 22 at the time, and he would live until 1927, when he was 87. From the Spared & Shared blog, we also learn some fascinating details of Joseph's life and service:
In June 1861, Joseph enlisted in Co. I, 12th Massachusetts Infantry—"Webster's Regiment," named for its first colonel. Joseph served for 21 months before he was honorably discharged for disability. His muster records indicate that he stood 5′ 6″ tall, had a light complexion, light eyes and light hair.
The first year of service for the 12th Massachusetts was relatively uneventful as they spent most of that time serving picket duty in the vicinity of Frederick, Maryland, attached to the Department of the Shenandoah. In June 1862, they became part of the Army of Virginia and fought their first significant battle at Cedar Mountain on August 9, 1862.
Sometime shortly after the Battle of Antietam, Joseph was no longer able to carry a musket and hospitalized which led to his eventual discharge, thus surviving the war.
I think it is unlikely that Joseph participated in the battle of Cedar Mountain as it came less than two days after he wrote the letter, and it is at least that far hiking. I'm not even sure that he fought in the Battle of Antietam which would come about two months later and leave more than 22,000 people dead, wounded, or missing — America's bloodiest day.
His letter is pretty innocuous and routine. I don't really understand all of the content. It is pictured below interspersed with a transcription.
Upside down text: I will not send the 1/4 in this J.W. Mardsen
____ Genl Hospital Wolfe Street,
Alexandria VA August 7, 1862

Dear Parents I received yours of the first day before yesterday, then the $10, got home all night. I will send 10 1/4 home in this. I have to get hold of a Mexican quarter and I'll send it to you to take care of. I wrote to JW Damaris the first of this week.

Then some of the folks of N Staughton did not like to be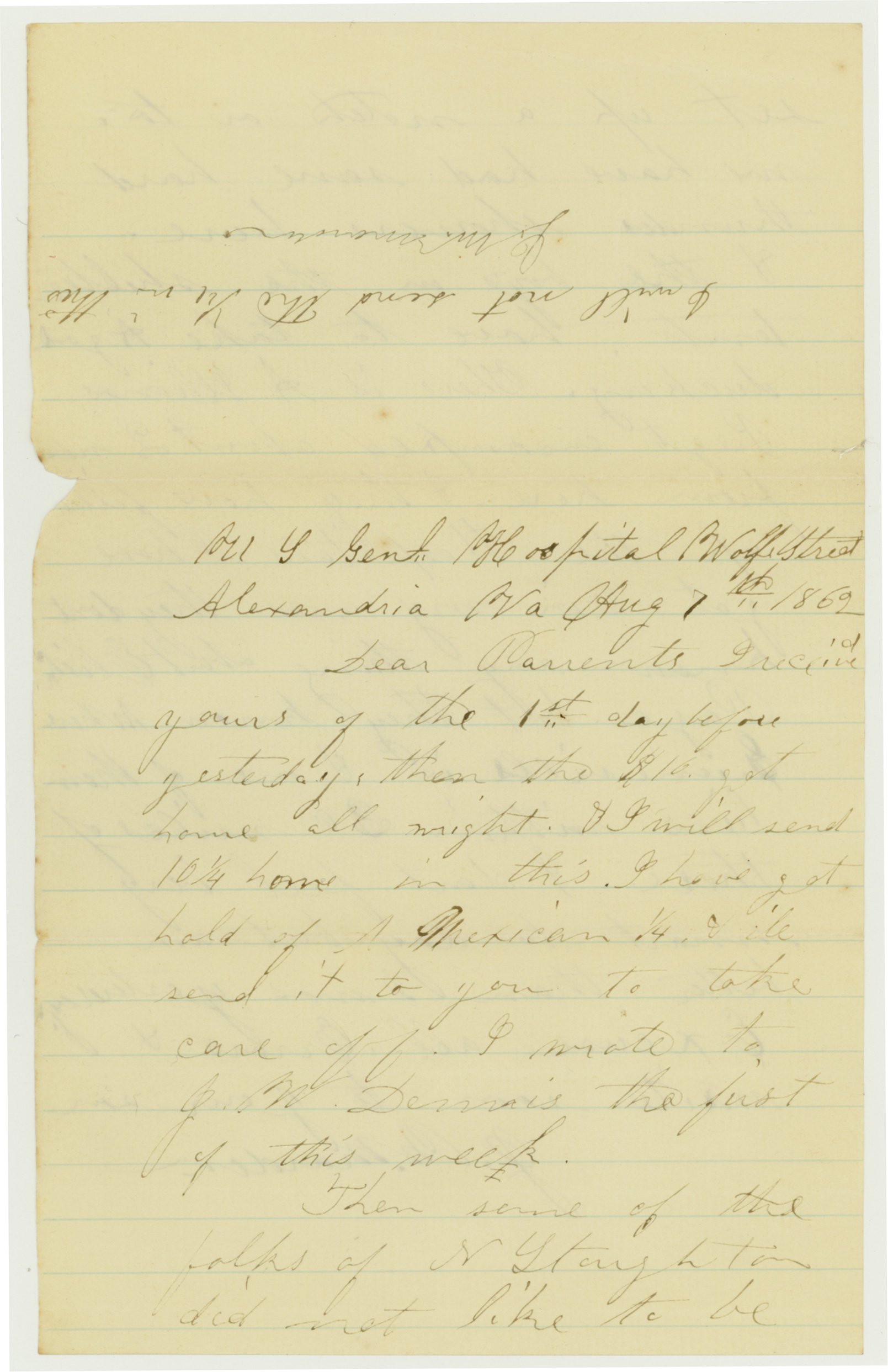 set up a notch or to. We have had some hard thunder showers here and the boys in the shelter tents have to take a good ducking. There is a Illinois regiment encamped about 2 miles from here and they have filled up the hospitals. I've got three in my ward. They don't know anything about Elisha Page but they know where Greenewill's is and one of them lives within 30 miles of there. I don't feel very smart today but I am better than I was yesterday. Excuse all errors and write soon to
your son

J.W. Marden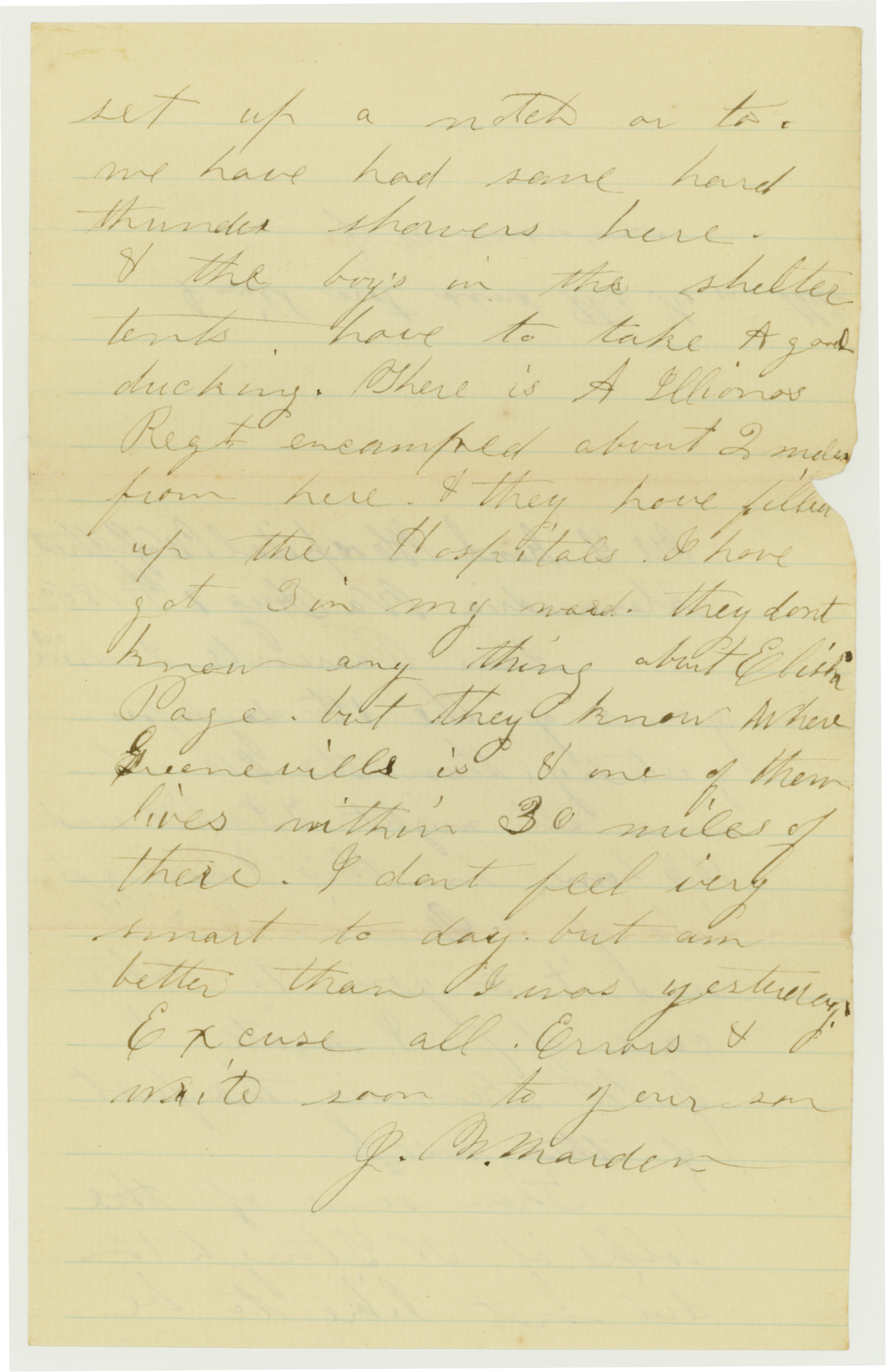 Mr. George Marden
Staughton
Mass