I've been looking closely at this postcard of Laura and John Rockefeller arriving in Cleveland to spend time at their summer home. The postmark indicates that it was sent in 1916. Like anything historic, I tend to spot the inconsistencies first. Maybe I have trust issues. If so, here's why.
First off, Mrs. Rockefeller passed away in March 1915. Second, Mrs. Rockefeller was mostly bedridden for the last five years of her life. Before we dig into those incongruencies, some background on the familiar Rockefeller name might be helpful.
John Rockefeller was the richest man globally, having co-founded standard oil 50 years before. It refined 90% of the world's oil. He also was the world's most generous philanthropist and gave away more than half of his fortune for many honorable causes.
The Case Western Encyclopedia of Cleveland History offers this excellent summary of John Rockefeller's life at this time:
Rockefeller's business dealings necessitated increasingly more time in New York; he bought a home there in 1884 and eventually made that his legal residence. Nevertheless he maintained 2 homes in Cleveland and continued to summer at FOREST HILL until a tax dispute with local officials in 1913. His summer stays were usually short enough for him to avoid becoming liable for taxes, but his wife's illness had forced the Rockefellers to extend their stay in 1912. When the Rockefellers remained at Forest Hill past the February 1, 1913, tax deadline, county officials assessed Rockefeller with a tax bill of $1.5 million, which Rockefeller refused to pay. During the dispute, Rockefeller was under a subpoena that prevented him from entering Ohio. After the dispute was resolved, Rockefeller continued to support Cleveland-area institutions, but never returned to Forest Hill.
Here are the front and back of the postcard. John Rockefeller is in the center with the hat. Laura Rockefeller, his wife, may be the woman facing away from the camera. The woman to the left is Laura's sister.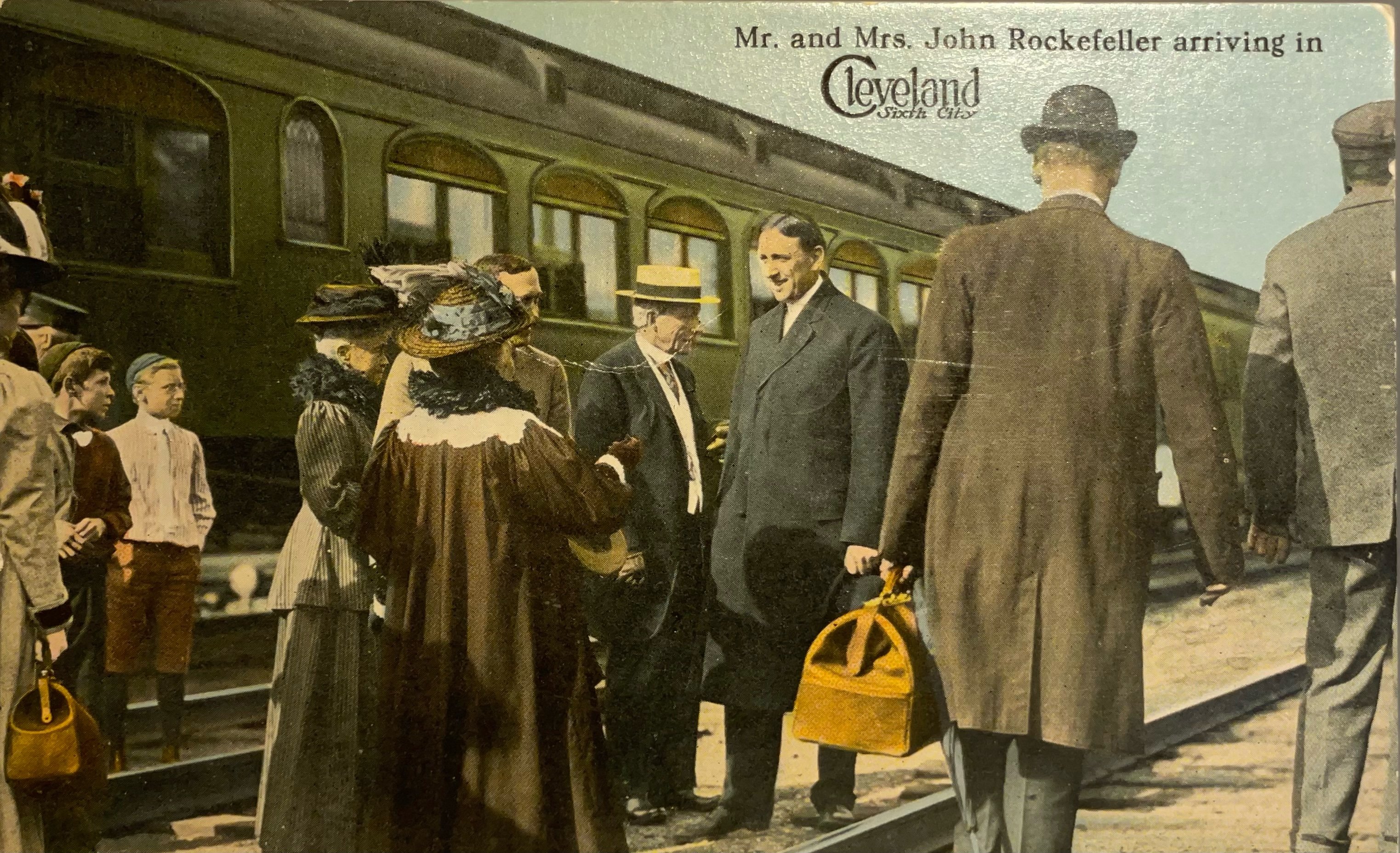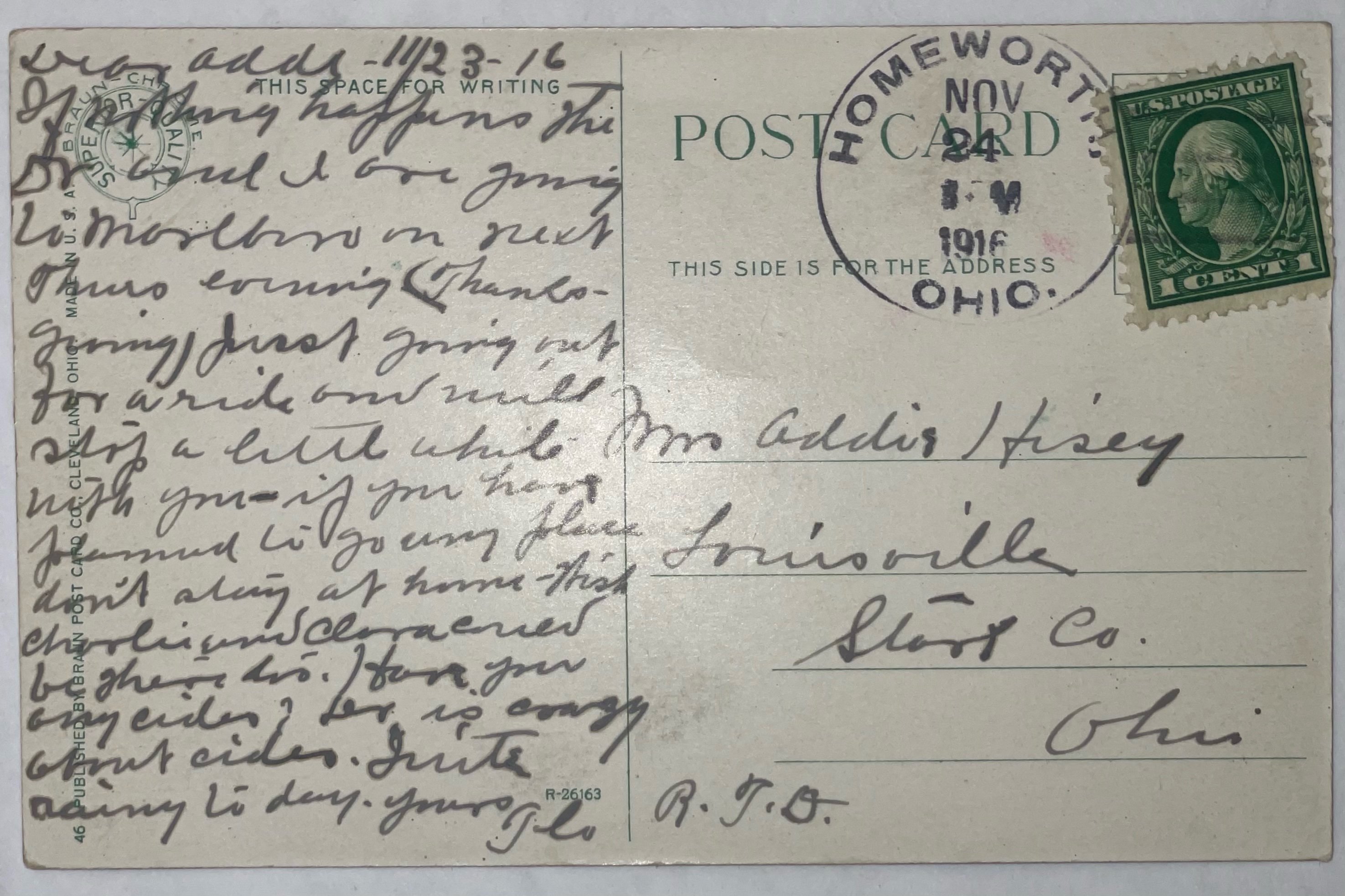 There seem to be several other identical postcards on the web with a postmark of 1916, but I did find this one dated 1914.

So now we know that this photo is pre-1914, and since we now know John Rockefeller did not return to Cleveland after his 1912 arrival and subsequent late departure in 1913, we can conclude that this photograph is ≤ 1913. Let's look at some other pictures from the era.
The image below is identified as 1912 from a reliable source. Rockefeller is seen walking with his sister-in-law, not his wife. His wife is nowhere in sight.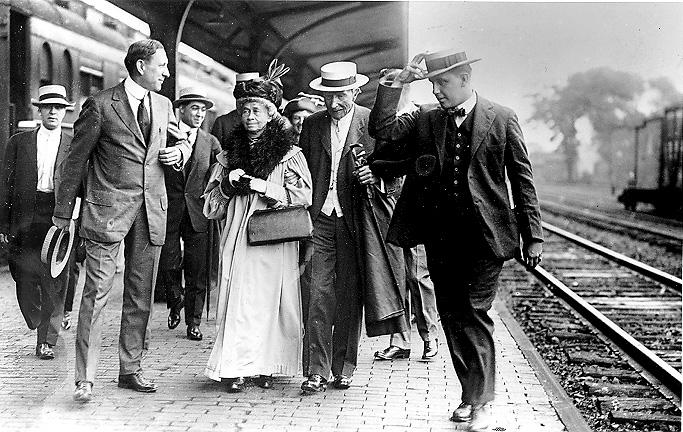 Let's compare this image coming from a trusted source dating who dates it 1912 with our postcard. I do think we have narrowed down the postcard image to either 1911 or 1912.

Here is a contemporaneously dated 1911 image of Mr. and Mrs. Rockefeller.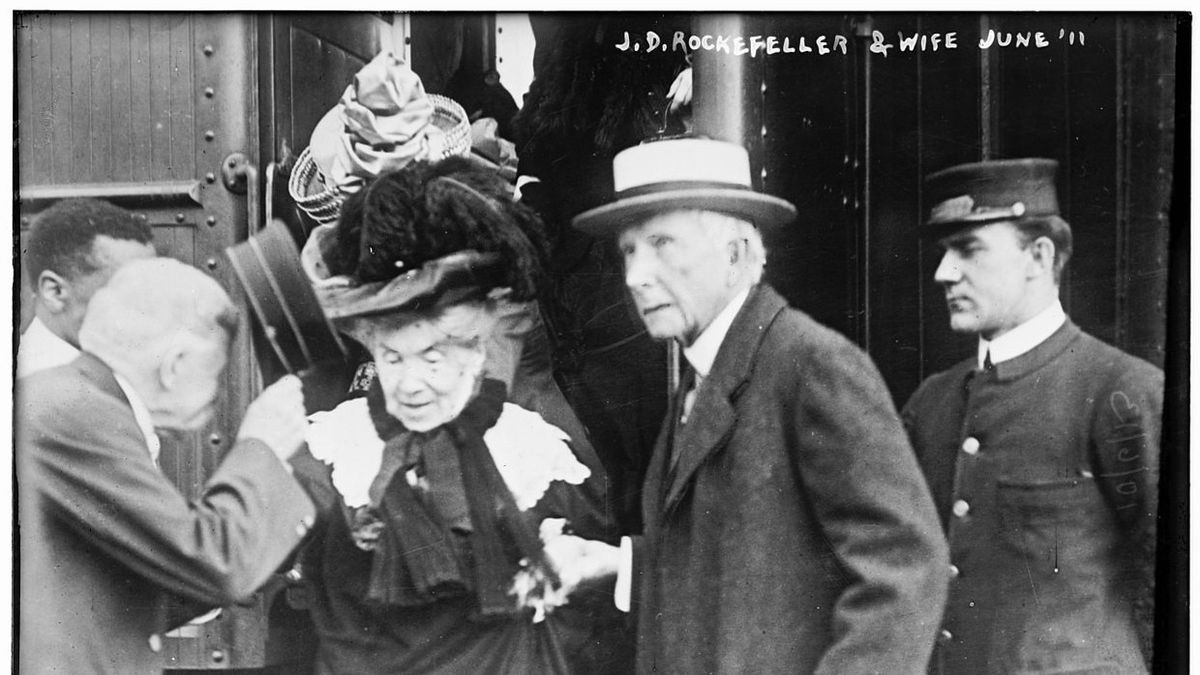 There are some items in this photograph that are similar to our postcard. Specifically, John seems to be wearing a tie. If that is indeed Laura in our postcard, Laura has a matching lace feature around her neck.
Here's another image apparently from a few minutes later: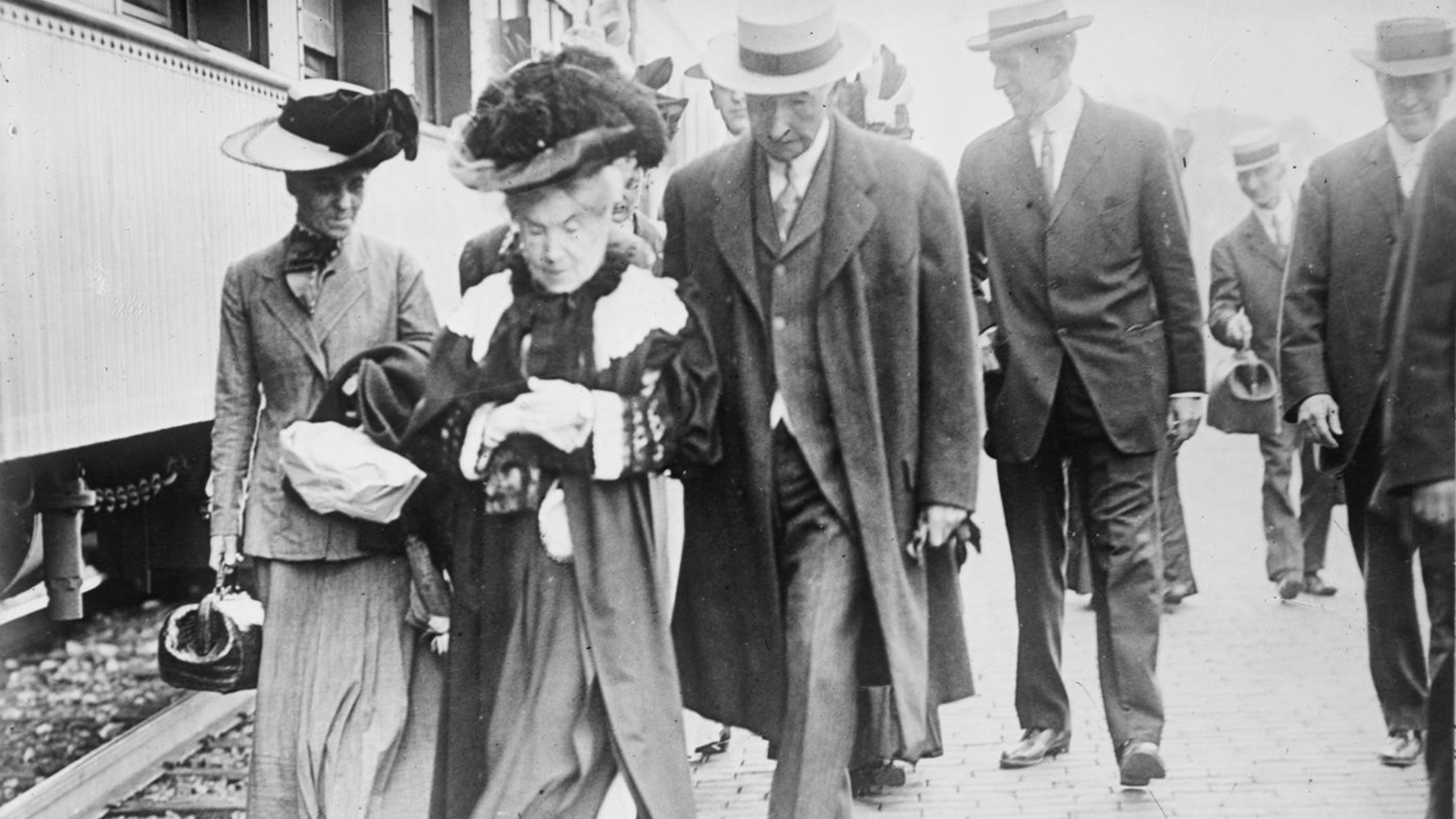 Here we can see that John is wearing a vest and a tie. Let's make a quick comparison between the 1911 image and our postcard. The most compelling evidence that these are not the same days is the crispness of the shadows in our postcard. It looks like a sunny day postcard image.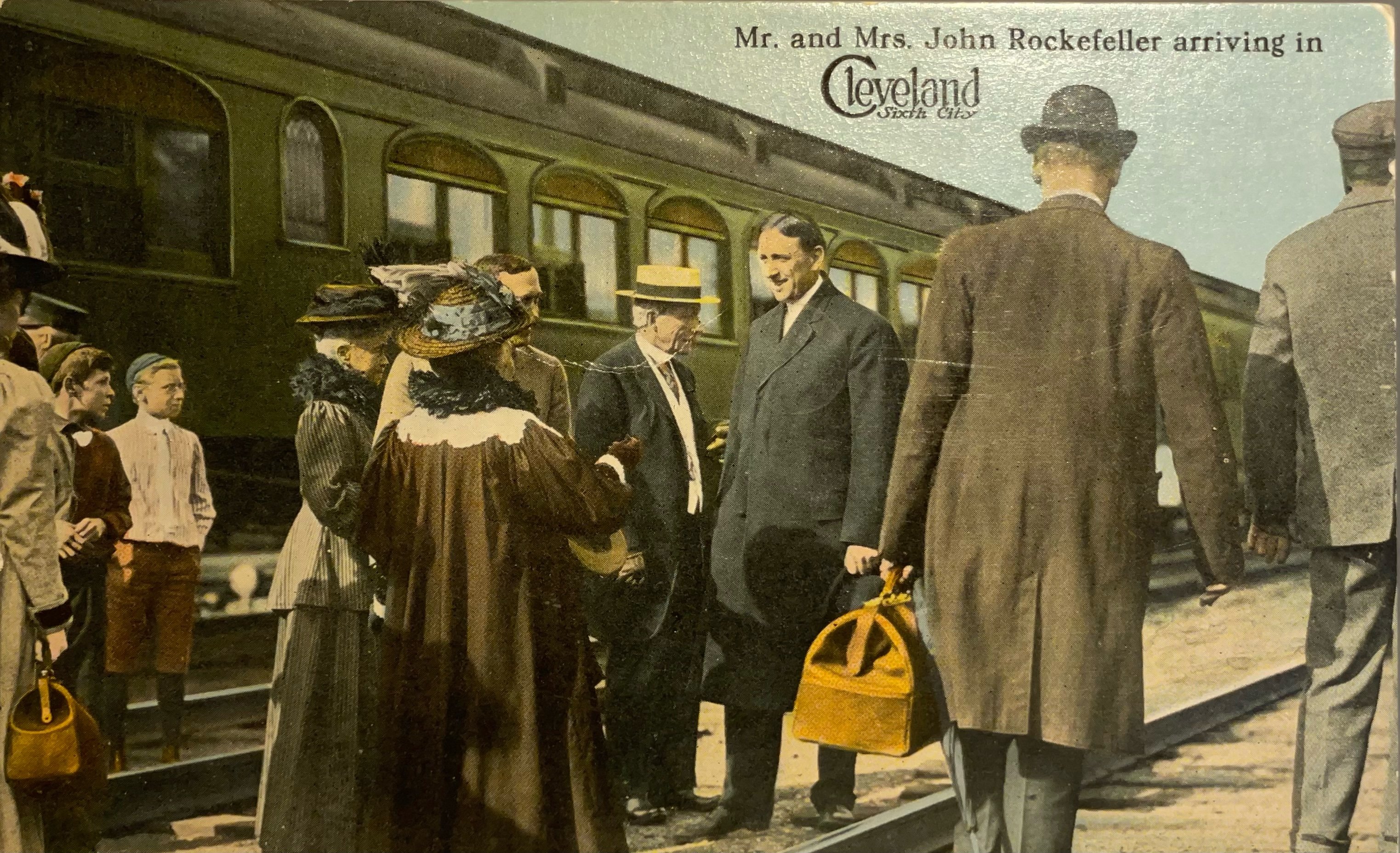 Complicating matters further, I found an identical postcard to ours postmarked September 1912.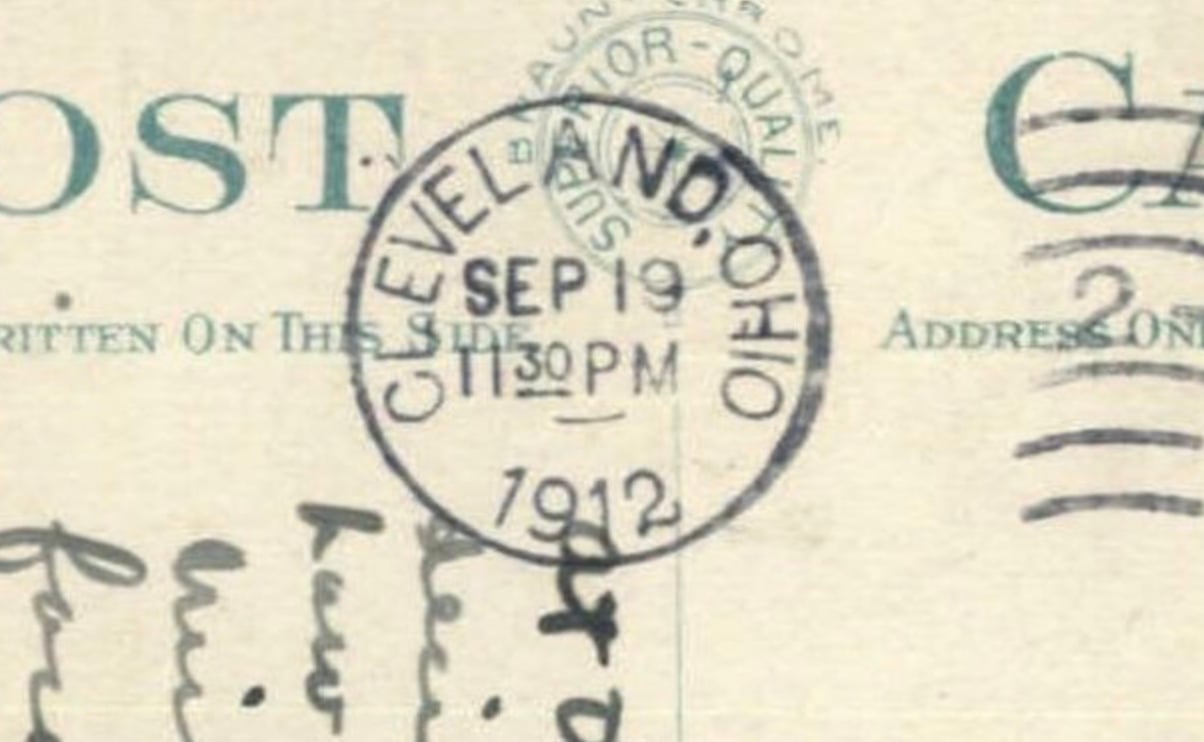 So, could the postcard company have produced and distributed a postcard in less than three months? I would've said unlikely, but it does seem to be the case.
Thus, I conclude that the image in the postcard is most likely 1912. This was the summer trip to their Cleveland home, where Laura would become ill. Thus, she postponed her departure past February 1 and created a tax bill that resulted in them never returning to their Forest Hills home.
What do you think? Did I get this right?