Constant Austin was a slight man. I imagine that his unique name once made him popular as a bartender in New York City. However, at 5 foot 3 inches, he probably needed help reaching the top-shelf bottles at his bar. He was well below the average 5-foot 8-inch height of a Civil War soldier. Interestingly, the average American male is only one inch taller than that today.
Constant Austin volunteered to fight on behalf of the Union Army. Serving in the 17th Veteran New York Infantry Regiment, he was one of the 2.75 million soldiers to fight in the Civil War. His complexion was light, and both his hair and eyes were brown. He would both enter the Army and leave as a private.
The way that he ultimately exited the military after reenlisting raises questions for me, but I am getting a bit ahead of myself. Here's a history of his 17th regiment:
From the New York State Military Museum and Veterans Research Center:
Major W. T. C. Grower received, June 3, 1863, authority to reorganize, for a period of three years, the 17th N. Y. Volunteers, discharged by reason of expiration of term of service. October 1, 1863, the men enlisted for the nth N. Y. Volunteers, second organization, were transferred to this regiment, and its reorganization completed on Staten Island, October 14, 1863, by the transfer to it of the men enlisted for 9th and 38th N. Y. Volunteers, second organizations, and the Union Sharpshooters, an organization not completed and recruited under Col. Achille M. B. de Villarceau under authority dated July 10, 1863.
The men were recruited principally in New York city; a few at Albany, Brooklyn, Buffalo, New Dorp, Norwich, Jamaica and Poughkeepsie, and the men originally enlisted for the nth N. Y. Volunteers formed Companies D and E; those enlisted for the 9th Veteran Volunteers Companies H and I; those for the 38th Veteran Volunteers Company K; while the Union Sharpshooters formed parts of the other companies.

The regiment left the State October 18, 1863; served at Louisville, Ky., from October, 1863; at Eastport, Tenn., from November 7, 1863; at Union City and vicinity, Ky., in 6th Division, 16th Corps, from December 12, 1863; at Vicksburg, Miss., in 4th Division, 16th Corps, from January 27, 1864; on General Sherman's Meridian Expedition, in 2d Brigade, 4th Division, 16th Corps; at Decatur, Ala., in 3d Brigade, 4th Division, 16th Corps, from April 9, 1864; in the 16th Corps from August 8, 1864; in 1st Brigade, 2d Division, I4th Corps, from August 21, 1864; in the 1st Brigade, 22d Corps, from June 9, 1865; and, commanded by Col. James Lake, it was honorably discharged and mustered out July 13, 1865, at Alexandria, Va.
During its service the regiment lost by death, killed in action, 1 officer, 38 enlisted men; of wounds received in action, 1 officer, 16 enlisted men; of disease and other causes, 65 enlisted men; total, 2 officers, 119 enlisted men; aggregate, 121; of whom 2 enlisted men died in the hands of the enemy.
There is more here: https://museum.dmna.ny.gov/index.php/?cID=2054, here, here, & here.
The discharge above and below is part of the OurHistoryMuseum collection.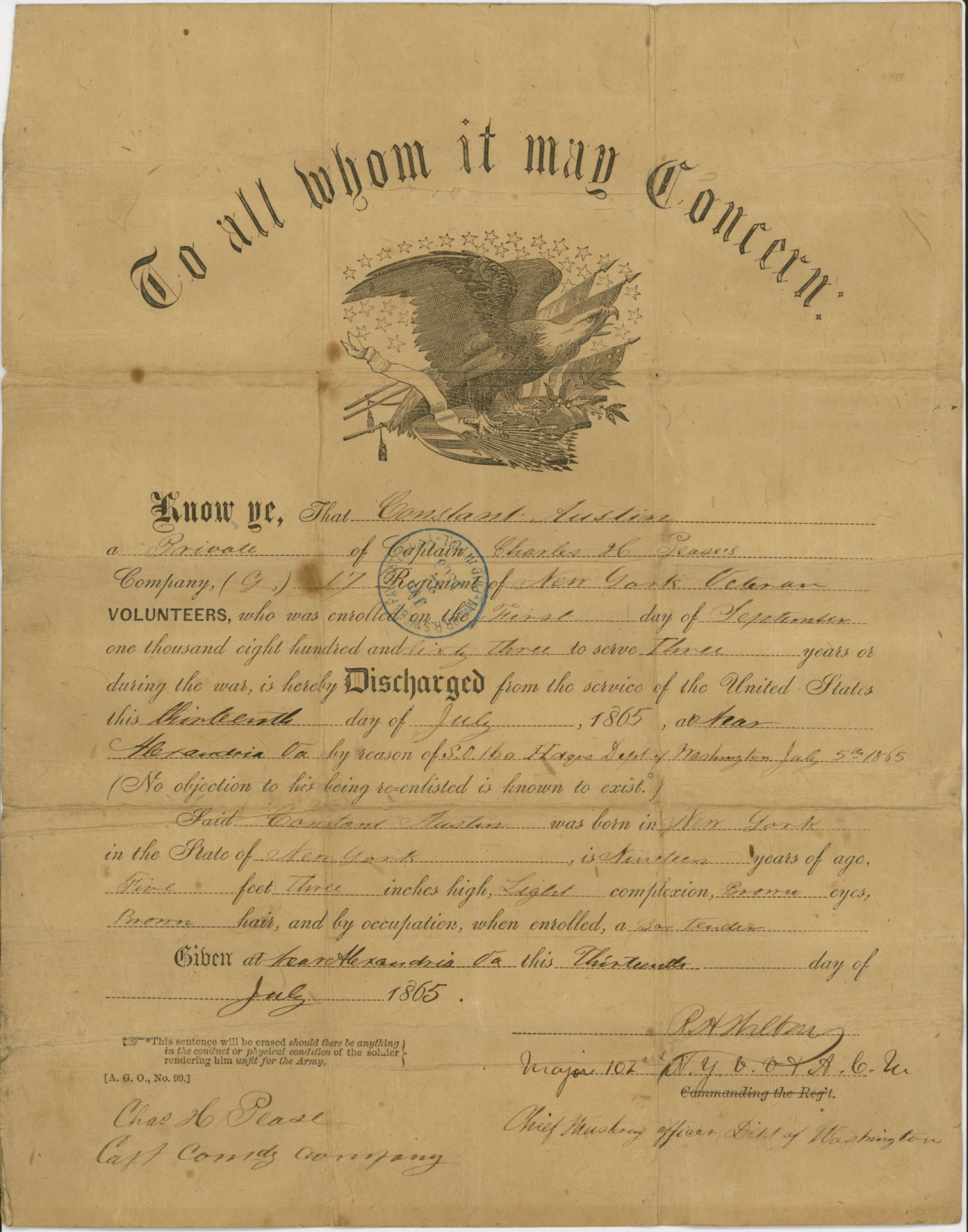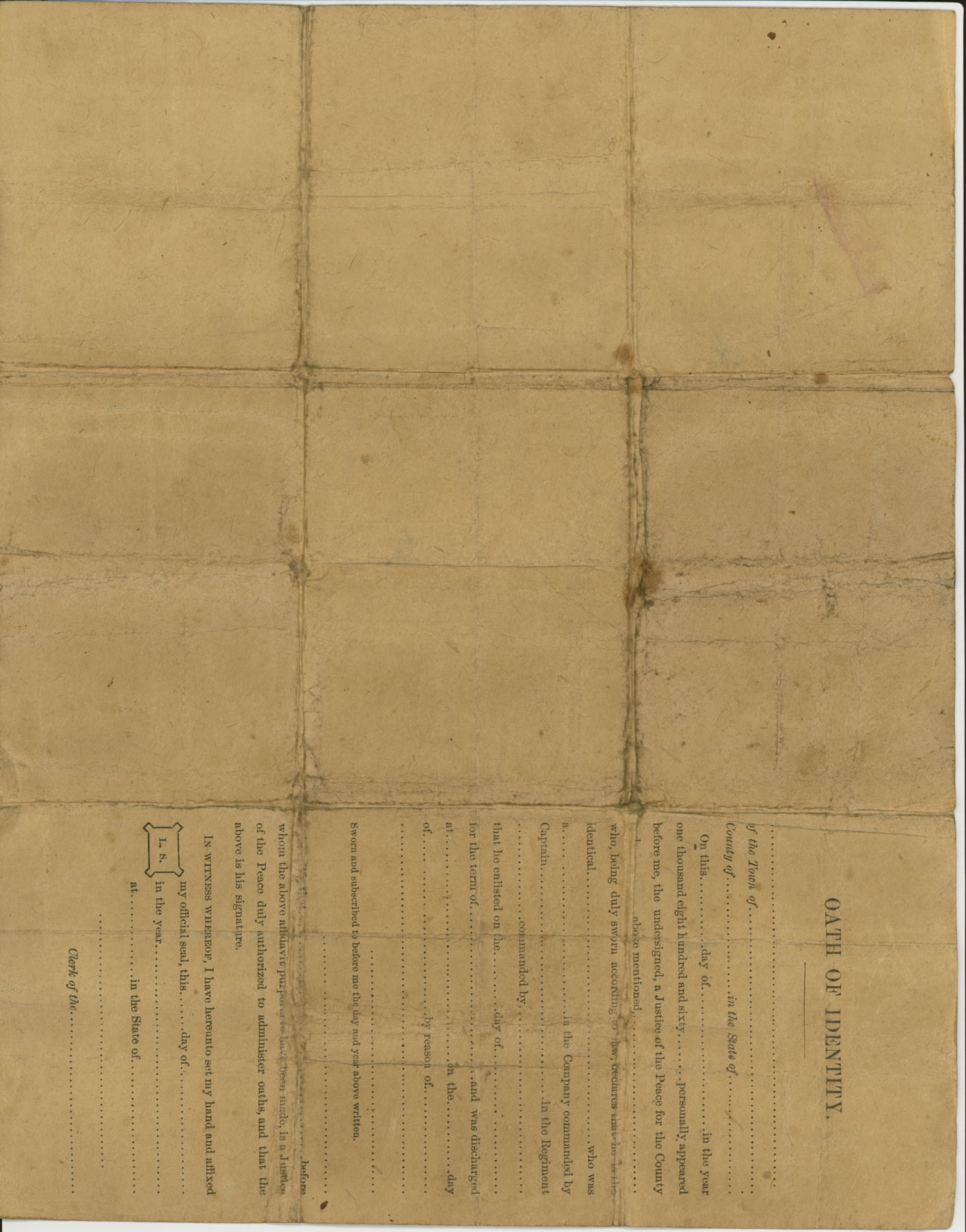 Private Austin seems to have had an uneventful military career.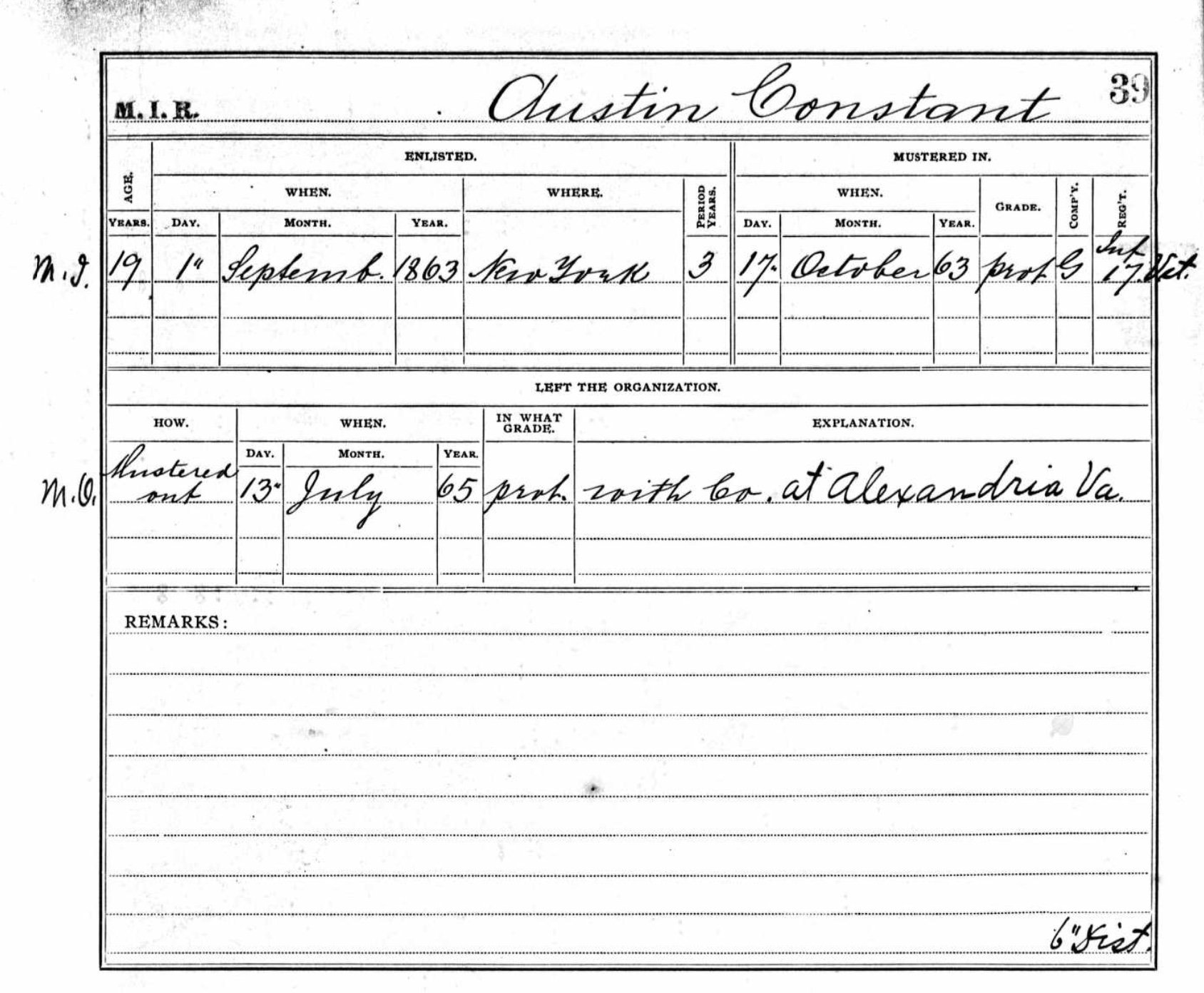 His Civil War record looks to be an honorable one, and he was certainly involved in combat.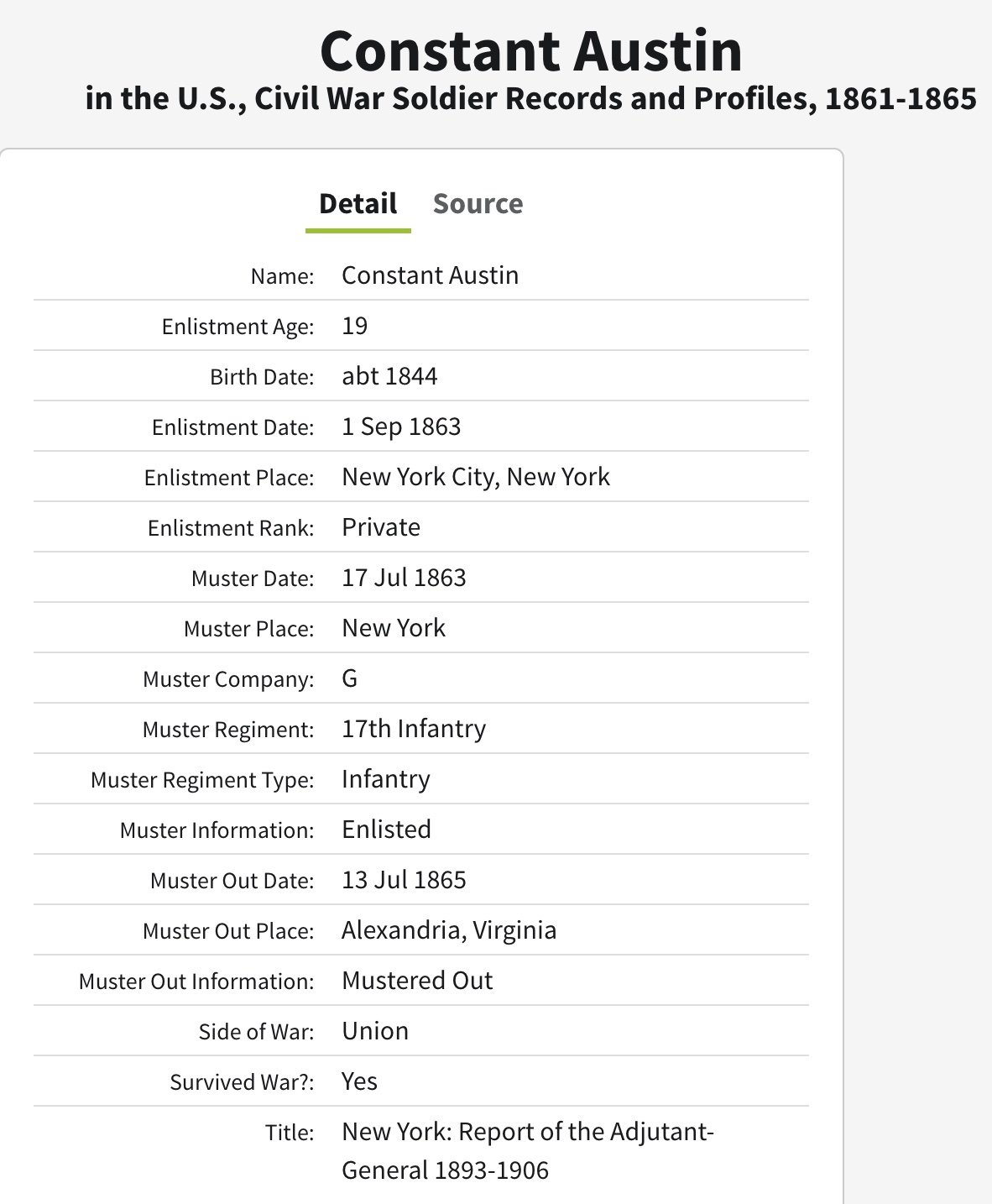 It appears he reenlisted in 1865 and grew an inch. I could swear that the third image says that he deserted on July 12, 1866. What do you think it says? Here's a link to the original document [free registration]. His name is the third one down.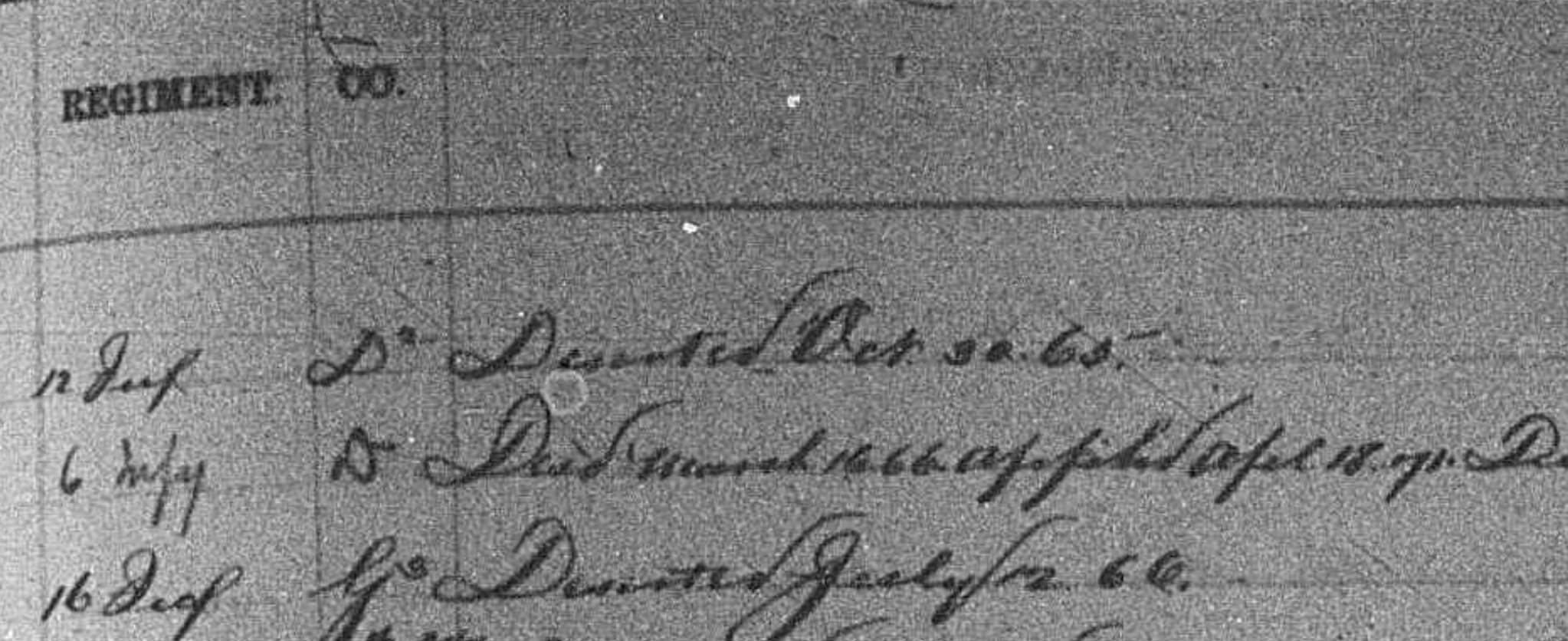 After 1866, I couldn't find any record of him. I don't raise the topic of desertion lightly. It's not something I would ever want to be wrong about. Does anyone have another explanation?