You've heard the story before, right? Allegedly, George Washington received a hatchet as a birthday gift, and he chopped down (or at least hacked into) a cherry tree on his father's property. Immediately confessing to the deed when confronted by his father, he said the words, "I cannot tell a lie."
The story was repeated to generations of schoolchildren, including me. As kids, we would dutifully make hatchets out of paper and reenact the scene.
Unfortunately, none of it was true, and the story was ironically wielded as a weapon encouraging honesty.
This fake news is attributed to Mason Locke Weems, author of the 1800 best-selling book, The Life of Washington. It was the first biography of George Washington. Interestingly, the cherry tree story did not appear until the 1809 5th edition of this book.
According to the Mount Vernon website:
Weems had several motives when he wrote The Life of Washington and the cherry tree myth. Profit was certainly one of them; he rightly assumed that if he wrote a popular history book about Washington it would sell. Weems was also able to counter the early tradition of deifying Washington by focusing on his private virtues, rather than his public accomplishments. A Federalist admirer of order and self-discipline, Weems wanted to present Washington as the perfect role model, especially for young Americans.
An excerpt fromThe Life of Washington (1809 or after):
"When George," said she, "was about six years old, he was made the wealthy master of a hatchet! of which, like most little boys, he was immoderately fond, and was constantly going about chopping every thing that came in his way. One day, in the garden, where he often amused himself hacking his mother's pea-sticks, he unluckily tried the edge of his hatchet on the body of a beautiful young English cherry-tree, which he barked so terribly, that I don't believe the tree ever got the better of it. The next morning the old gentleman finding out what had befallen his tree, which, by the by, was a great favourite, came into the house, and with much warmth asked for the mischievous author, declaring at the same time, that he would not have taken five guineas for his tree. Nobody could tell him any thing about it. Presently George and his hatchet made their appearance. George, said his father, do you know who killed that beautiful little cherry-tree yonder in the garden? This was a tough question; and George staggered under it for a moment; but quickly recovered himself: and looking at his father, with the sweet face of youth brightened with the inexpressible charm of all-conquering truth, he bravely cried out, "I can't tell a lie, Pa; you know I can't tell a lie. I did cut it with my hatchet."–Run to my arms, you dearest boy, cried his father in transports, run to my arms; glad am I, George, that you killed my tree; for you have paid me for it a thousand fold. Such an act of heroism in my son, is more worth than a thousand trees, though blossomed with silver, and their fruits of purest gold.
The artifact pictured from OurHistoryMuseum is a small real-wood hatchet that was likely sold in the Mount Vernon gift shop. We can date it using similar techniques to the ones used to date the postcards in our last article, Dating a Mount Vernon Postcard Booklet is a Delightful Mystery Journey. First, let's take a closer look at the item.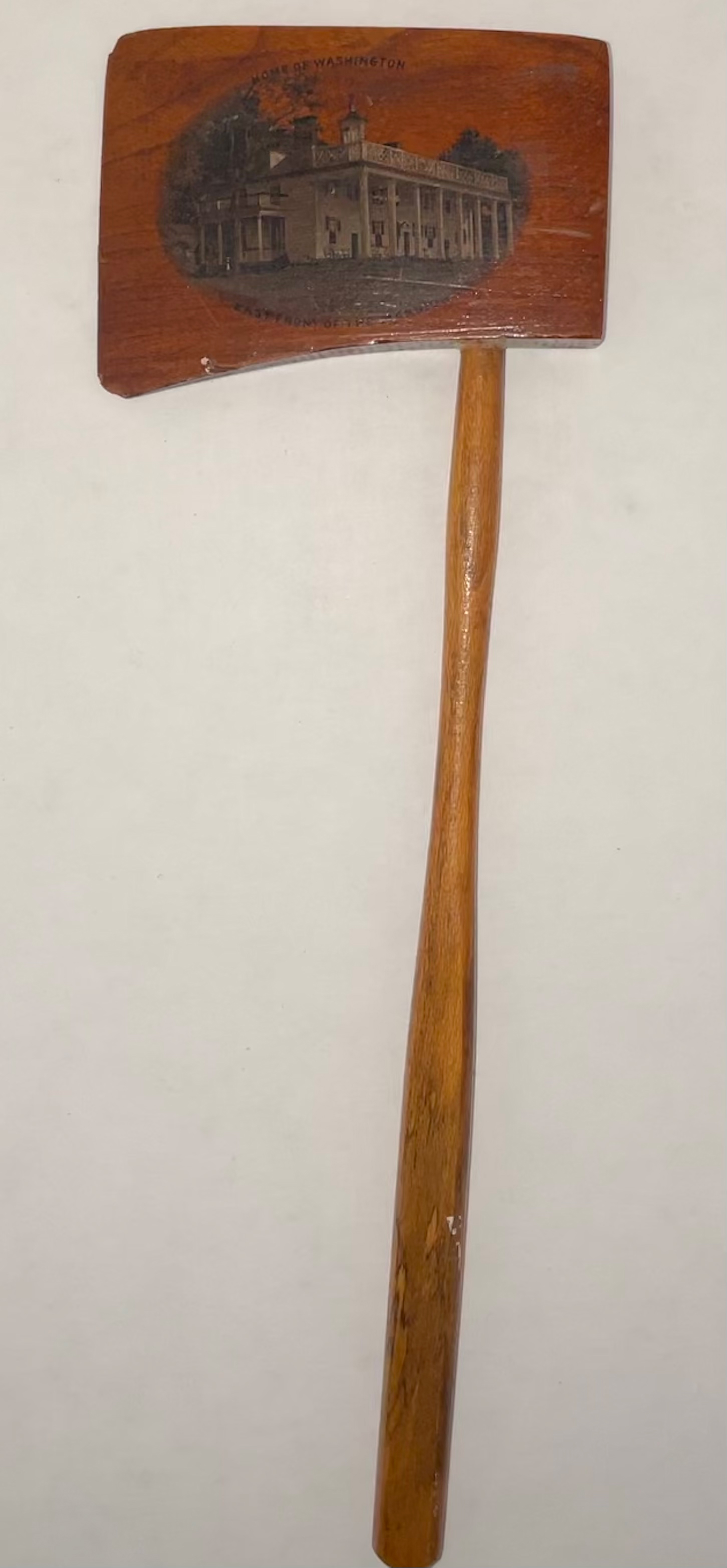 Here's a detailed shot of the hatchet head: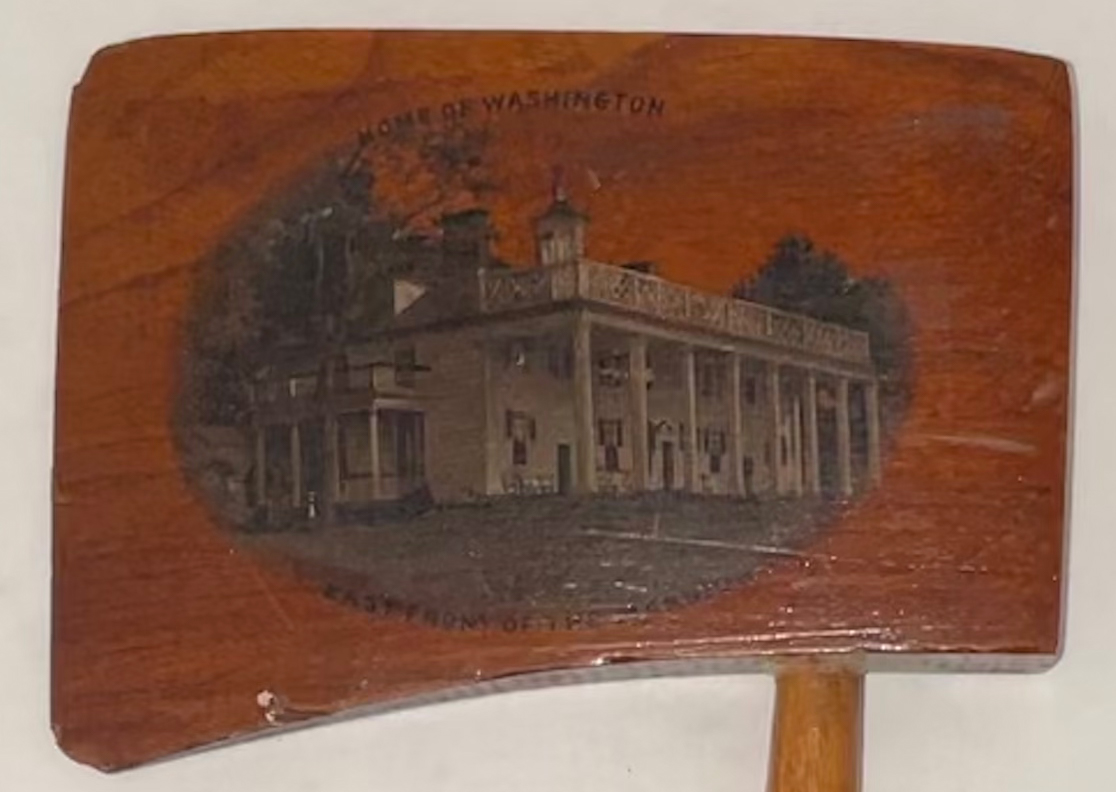 As noted in the previous article, the balustrade was removed in 1936, and the south porch was likely removed in 1932. So we know this is pre-1932, for starters. We also know that the pecan tree just off the south porch was removed (aka, chopped down) in 1910. However, the tree started to look sickly in 1908.
That appears to be the era here.
As for the cherry tree story, I'm sorry.