In the first days of the Civil War, Alexandria, Virginia, was almost immediately seized by Union troops without a fight. That's the primary reason that so much colonial architecture is preserved compared to more southern towns reduced to rubble during the war. It's also the reason Alexandria became a safe haven for enslaved people. If they could make it to Alexandria, they could make it to freedom.
Eventually, 178,000 African-Americans would serve in the Civil War, and about half were formerly enslaved people. Despite their honorable service, they were not treated equally. They were paid less and segregated from other troops.
In fact, a hospital for so-called "colored troops" was set up in Alexandria, Virginia. L'Ouverture Hospital was open for several years and had some surprising civil rights activity. It was located in the 1300 block between Duke and Prince streets, adjacent to the former site of the Franklin & Armfield slave dealers.
OurHistoryMuseum has two items in its collection from L'Ouverture Hospital. The first is a list of patients at the hospital. It was exhibited at the Alexandria Black History Museum. The second is a letter written on behalf of a soldier describing some kind of fraud that the soldier had been a victim of. Both are below.
The main image depicts troops actually at L'Ouverture Hospital. It is not part of the OurHistoryMuseum collection. It is a fascinating story, however, as the persons pictured have been identified.
The City of Alexandria has an excellent web page devoted to L'Ouverture Hospital. Their introduction reads:
Built in 1863, L'Ouverture opened in February 1864 for African American troops and contraband civilians and was outside the divisional structure of the other hospitals in Alexandria. It was named for Haitian revolutionary leader Toussaint L'Ouverture. As depicted on the Quartermaster's map, buildings included barracks, cookhouse and mess room, linen room, office, sutler's store, deadhouse, and a dispensary. Long canvas tents allowed for ventilation and separation of patients.

Hospital administration used an existing residence as their headquarters. This building, a private residence with an historic plaque, still stands at 219 S. Payne Street. The historic Slave Pen was used as a jail, and stands today at 1315 Duke Street, as the Freedom House Museum and the headquarters of the Urban League. Buildings constructed during the war were dismantled by 1867.

Observations about events and conditions at L'Ouverture include reports by Chaplain Chauncey Leonard, letters from relief workers Julia Wilbur and Harriet Jacobs, and an account of the successful petition drive to ensure the deceased soldiers were buried as military men at Soldiers (now Alexandria National) Cemetery.
Chaplin Leonard is pictured at the far right in the main image.
Here is the patient list, followed by a picture of it being exhibited at the Alexandria Black History Museum. At least some of these men signed the petition described above seeking equal treatment after death. Here's a transcription of that petition and a list of the signers. They are some of America's first civil rights heroes.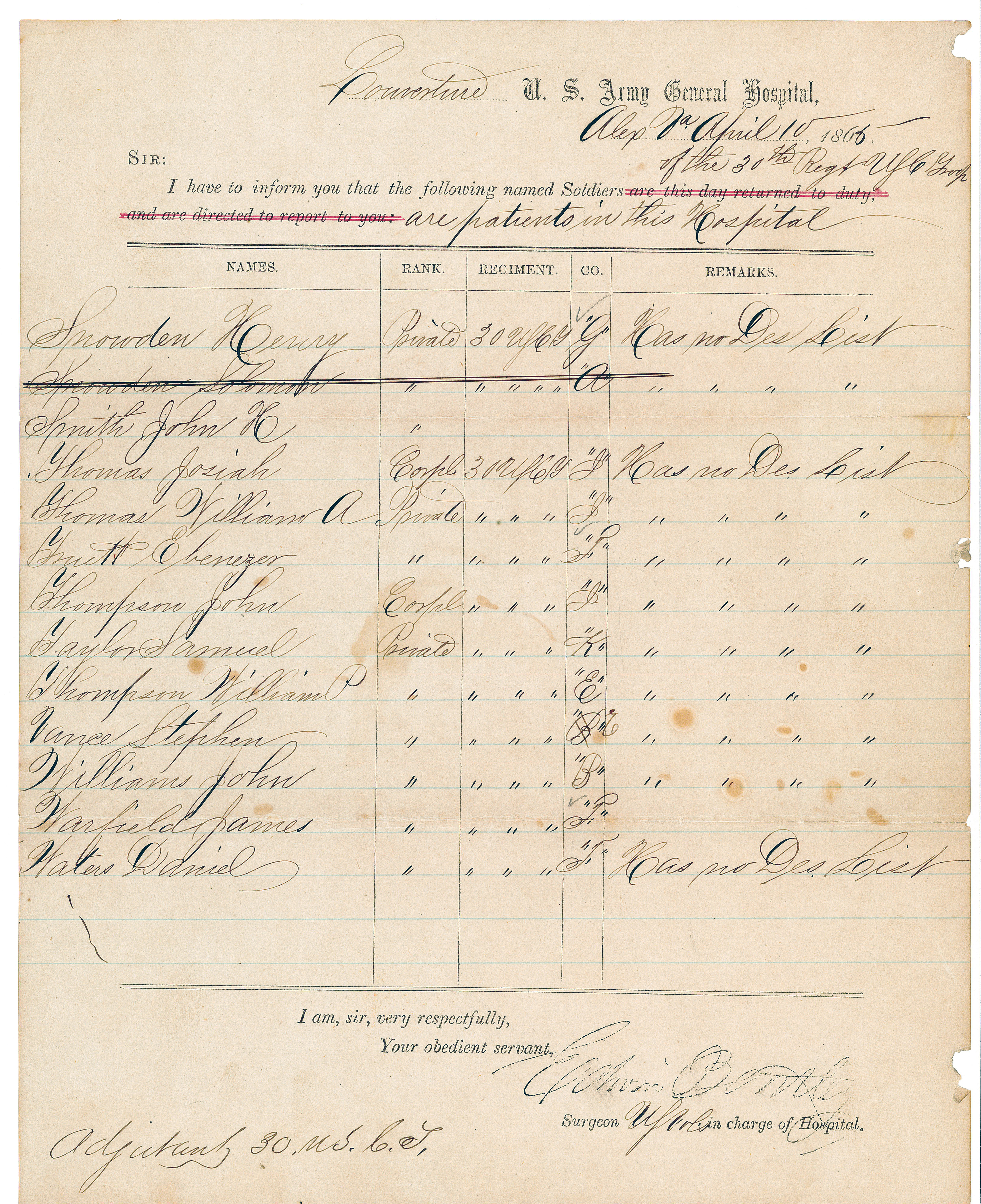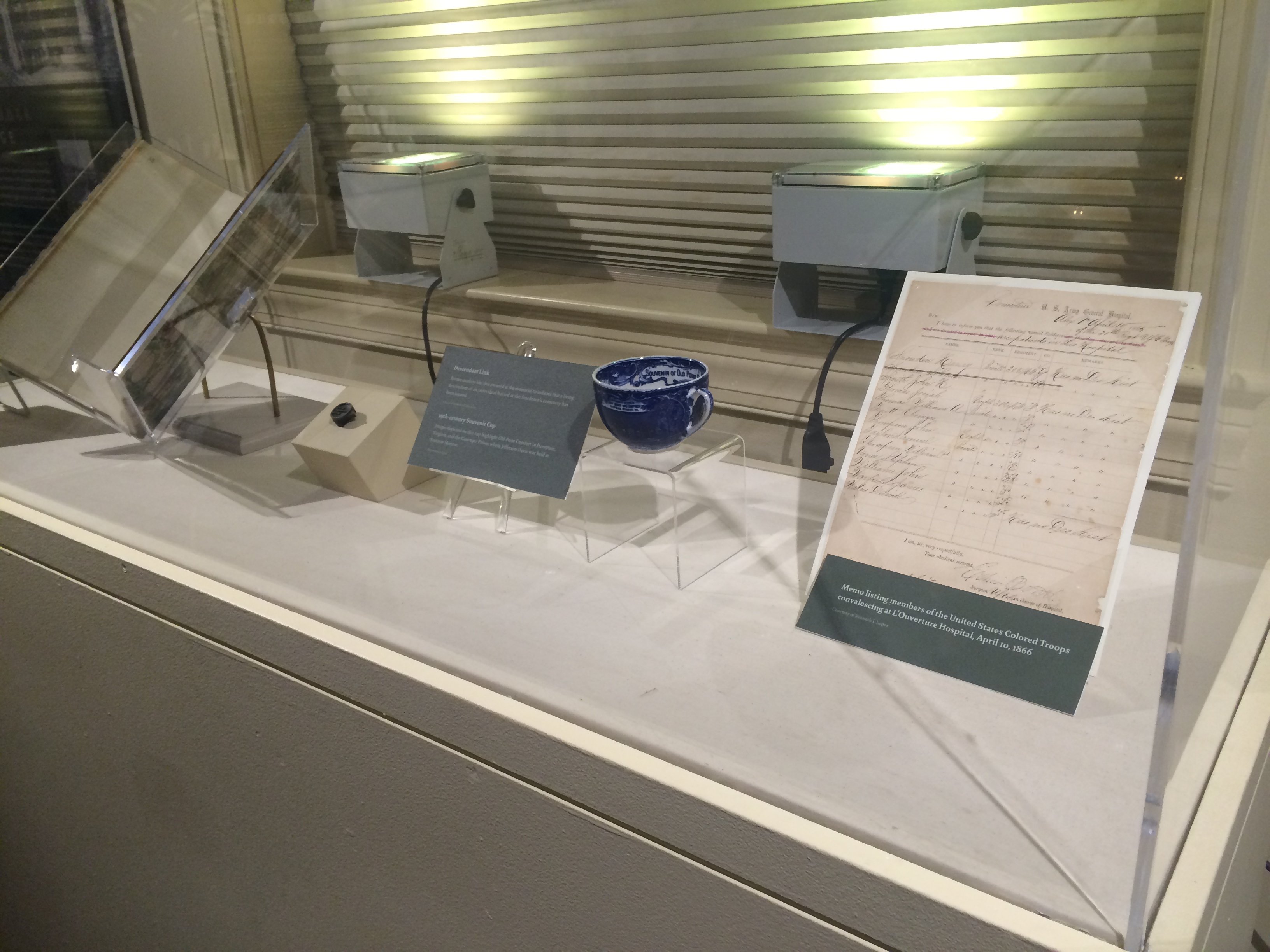 Here is a fascinating mystery involving Peter Frazer, who seems to have had $100 stolen from him. He was a signer of the letter demanding that African-American soldiers be buried with the other soldiers rather than at the Freedmen & Contraband cemetery. I have not transcribed this letter yet, although I invite anyone to do so by leaving a comment below. UPDATE: A transcription courtesy of Warren follows the images below. Thank you, Warren!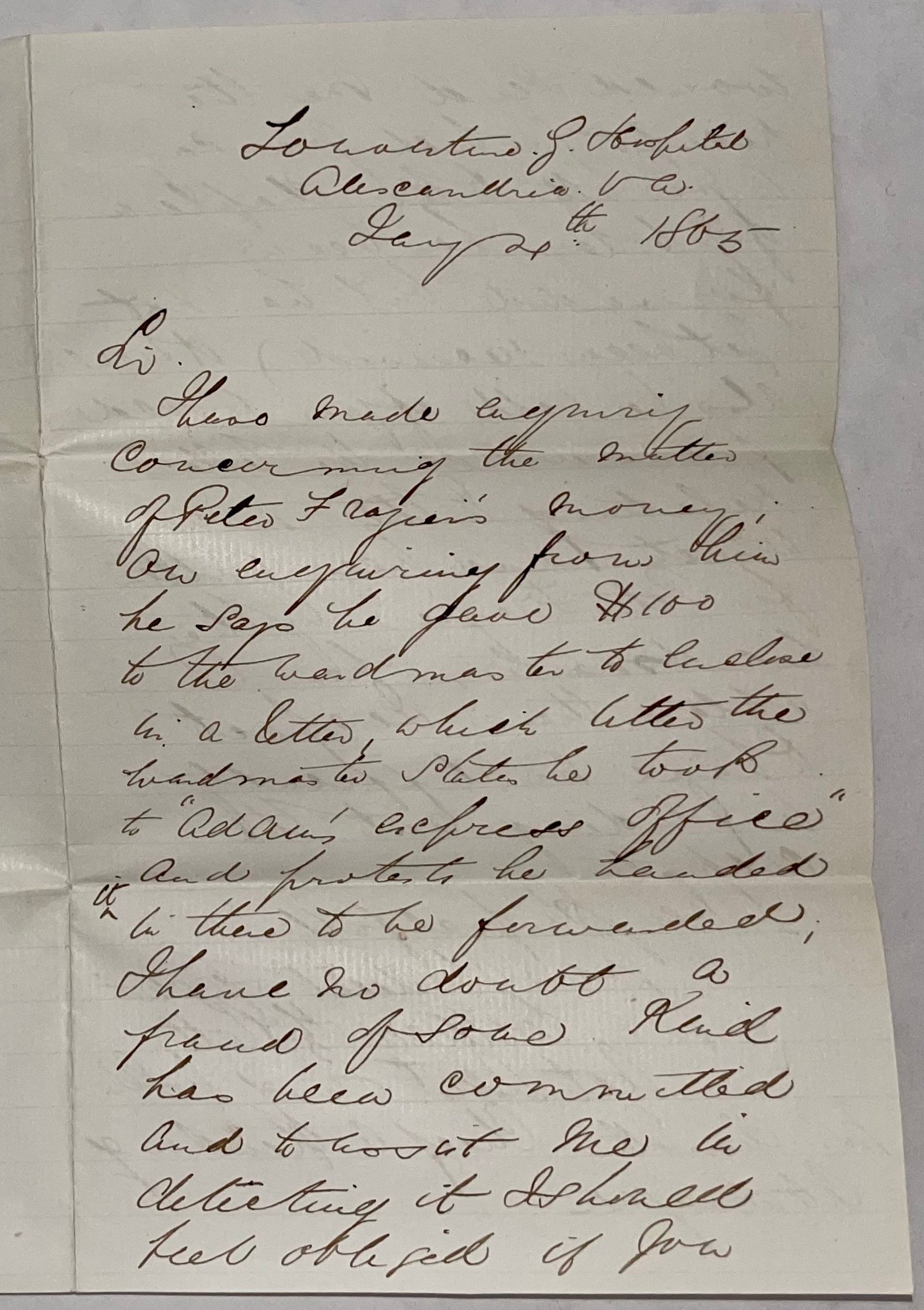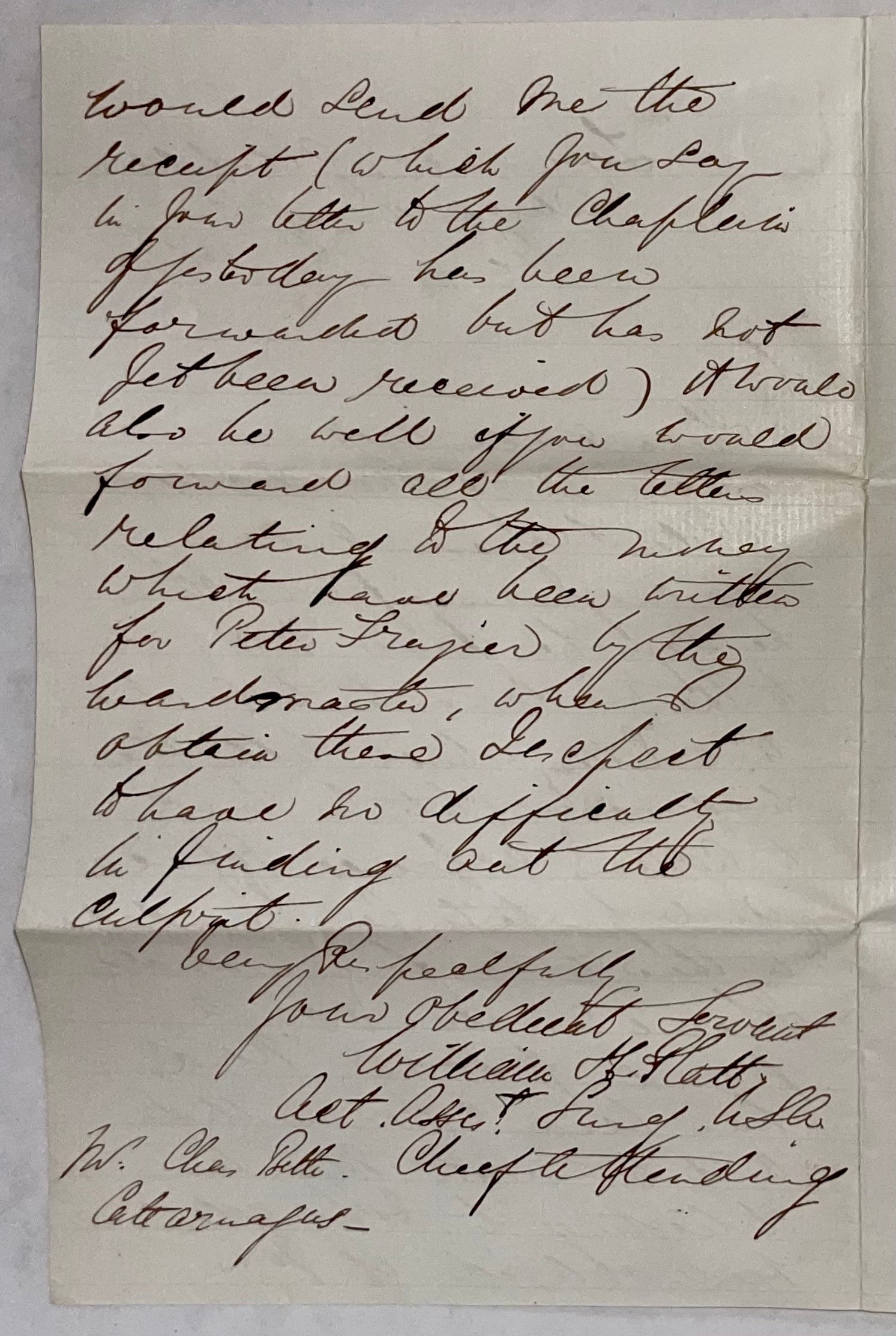 I have made inquiry concerning the matter of Peter Frazier's money. On (e)nquiring from him, he says he gave $100 to the 'wardmaster'. States he took Adam's ("express?) office, and protests he handed it to them to be forwarded. I have no doubt a fraud of some kind has been committed. And to me in detecting it, I shall feel obliged if John would send me the receipt which you say in John's letter to the Chaplain's Office has been forwarded but has not yet been received. It would also be well if you would forward me all the letters relating to the money which have been written for Peter Frazier by the wardmaster. When I obtain these I expect to have not difficulty in finding out the culprit. Being Respectfully your Obedient servant.....