From the French and Indian War to the American Revolution to the Civil War and in modern times, Carlyle House has been an ever-present and prominent home where history seems to unfold naturally. I don't think it would be hyperbole at all to call it one of the most historic homes in America. Were its owner more famous, "Carlyle House" would roll off our tongues like Mount Vernon, Monticello, or Biltmore.
Completed in 1753 in an architectural style entirely different from the rest of bricked colonial-era Alexandria, it was, and arguably still is, the most prominent home in Alexandria. Carlyle House gets its name from John Carlyle, one of the town's founders. His connections to George Washington and George Washington's connections to Carlyle House are simply too numerous to list.
With that introduction, here are the top five most interesting facts about the Carlyle House in Alexandria, Virginia, interspersed with items from the OurHistoryMuseum collection.
5. When first constructed, Carlyle House was a waterfront property situated on a hill overlooking the river. As one of the town's founders, John Carlyle was well-positioned to acquire the best property in town when they went up for sale in July 1749. He bought a double lot facing the river adjacent to the City's government and commercial centers. He had every reason to believe he'd have waterfront property forever. The red box marks the location of the Carlyle House property.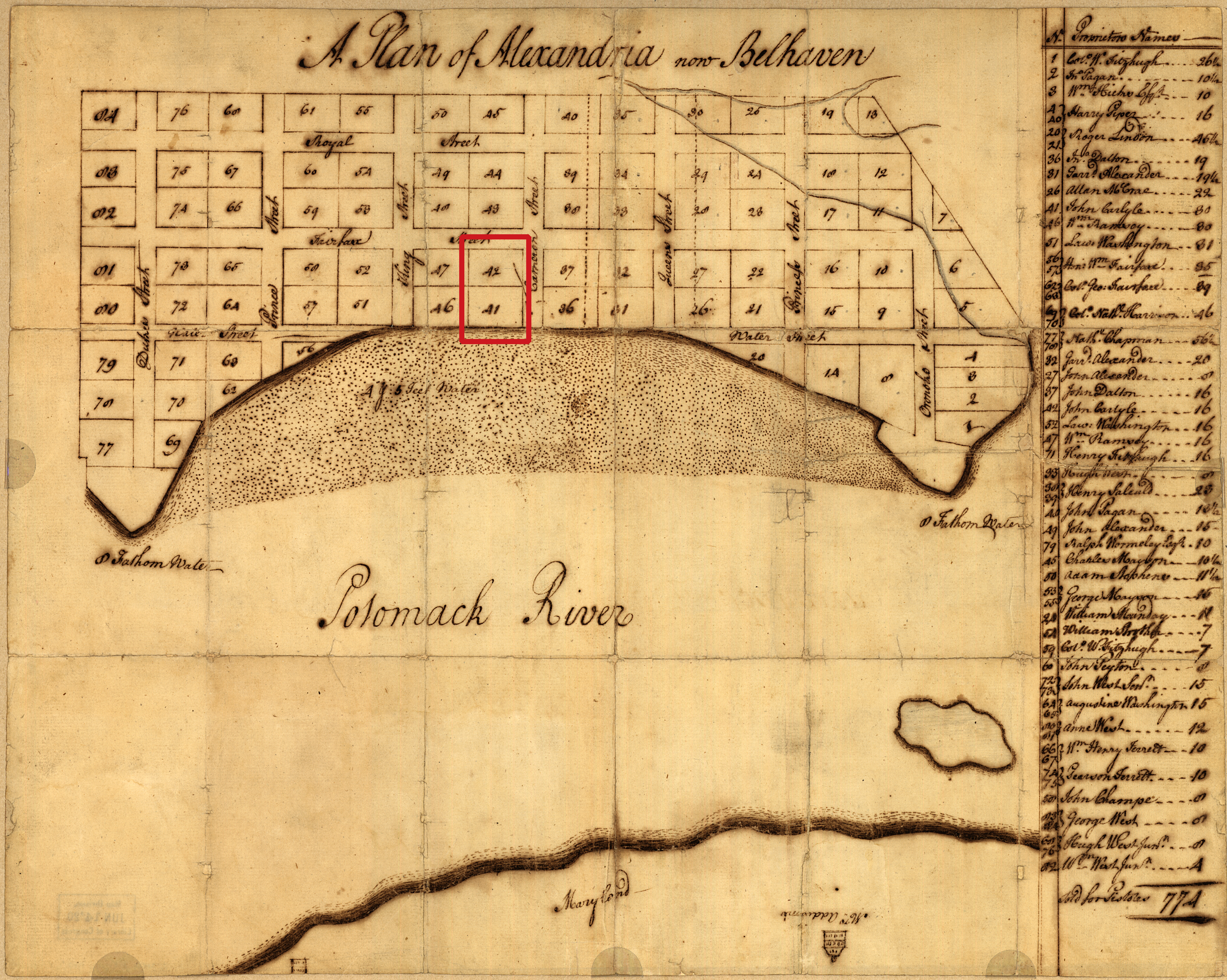 Compare that map above to the two maps below, and you'll see just how much the Alexandria waterfront has changed by infill activities. Whereas John Carlyle had waterfront property when his house was completed in 1753, today he would need to cross two different streets, pass through the Torpedo Factory Condominiums, the Torpedo Factory Art Center, skirt the Chart House and Blackwall Hitch restaurants, and navigate through the city marina to get to the river!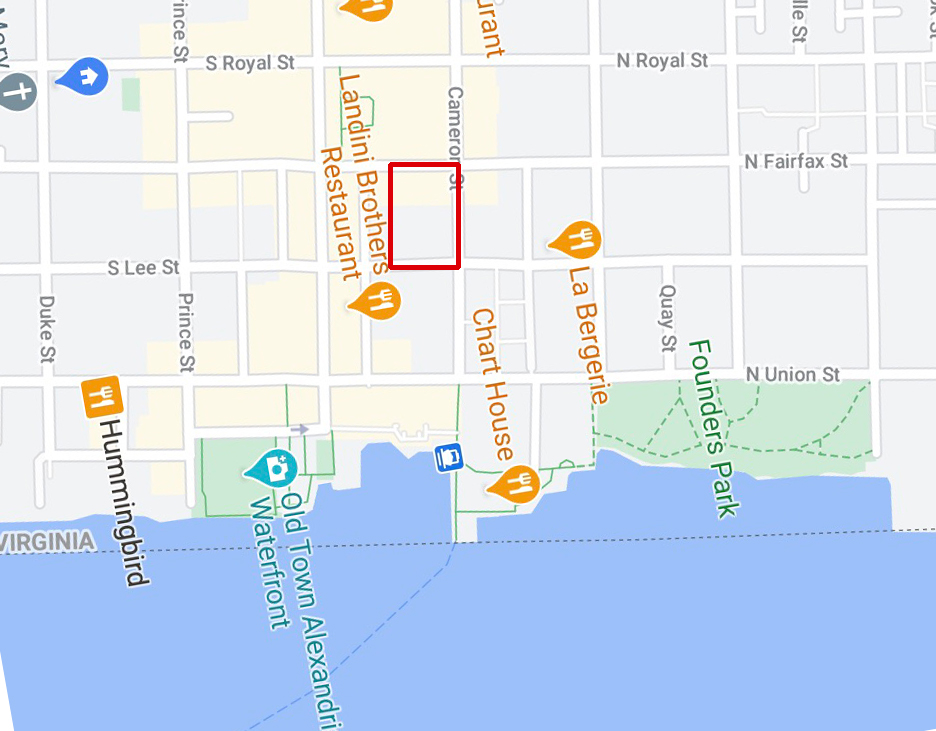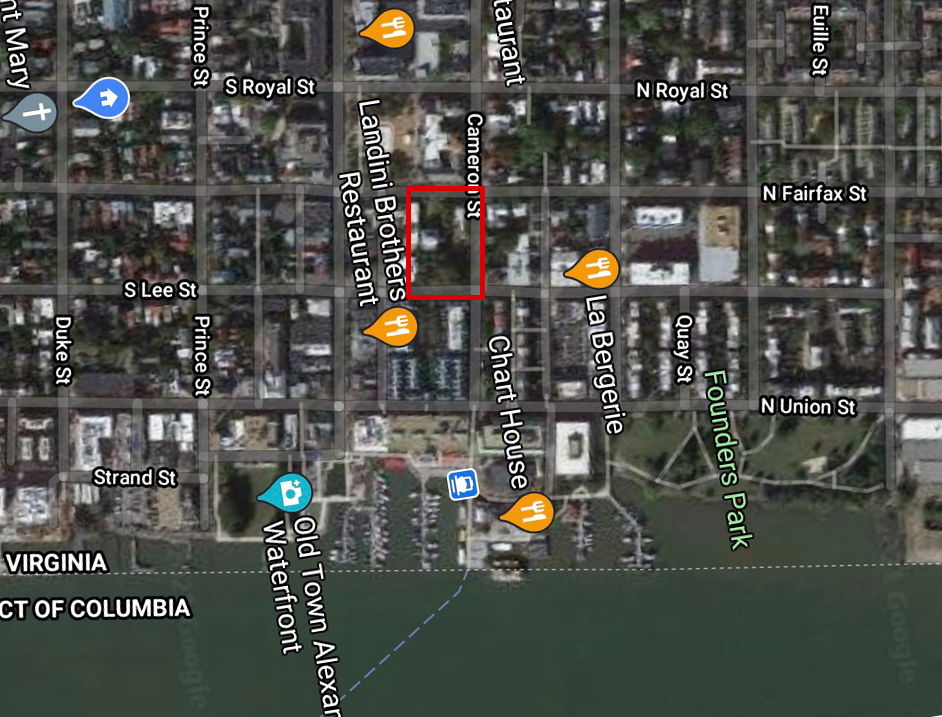 4. Carlyle House was a hotel and apartment building for years and was surrounded by other buildings for 100 years. Twenty years after John Carlyle's death, in 1800, the Bank of Alexandria building on the south west corner of Cameron and Fairfax streets was built on the north west corner of the property. Over the years, additional pieces of the property were sold off and construction ensued, eventually consuming the entire front lawn of Carlyle House. In the years leading up to the Civil War, the Carlyle House complex was known as Green's Mansion House Hotel. After the Civil War, it became the Braddock House apartments. Those buildings were not torn down until the 1970s.

present-day view of the same site: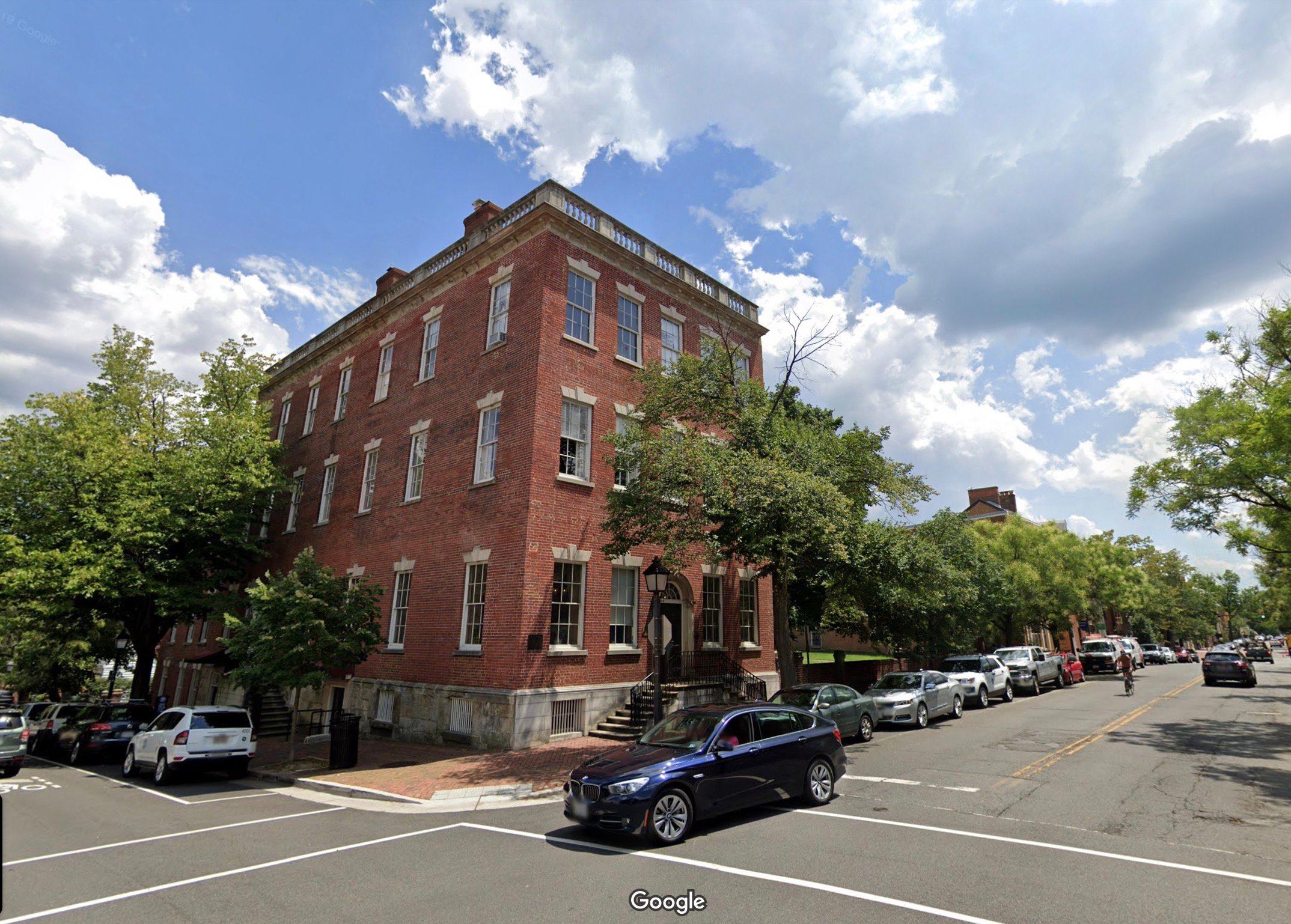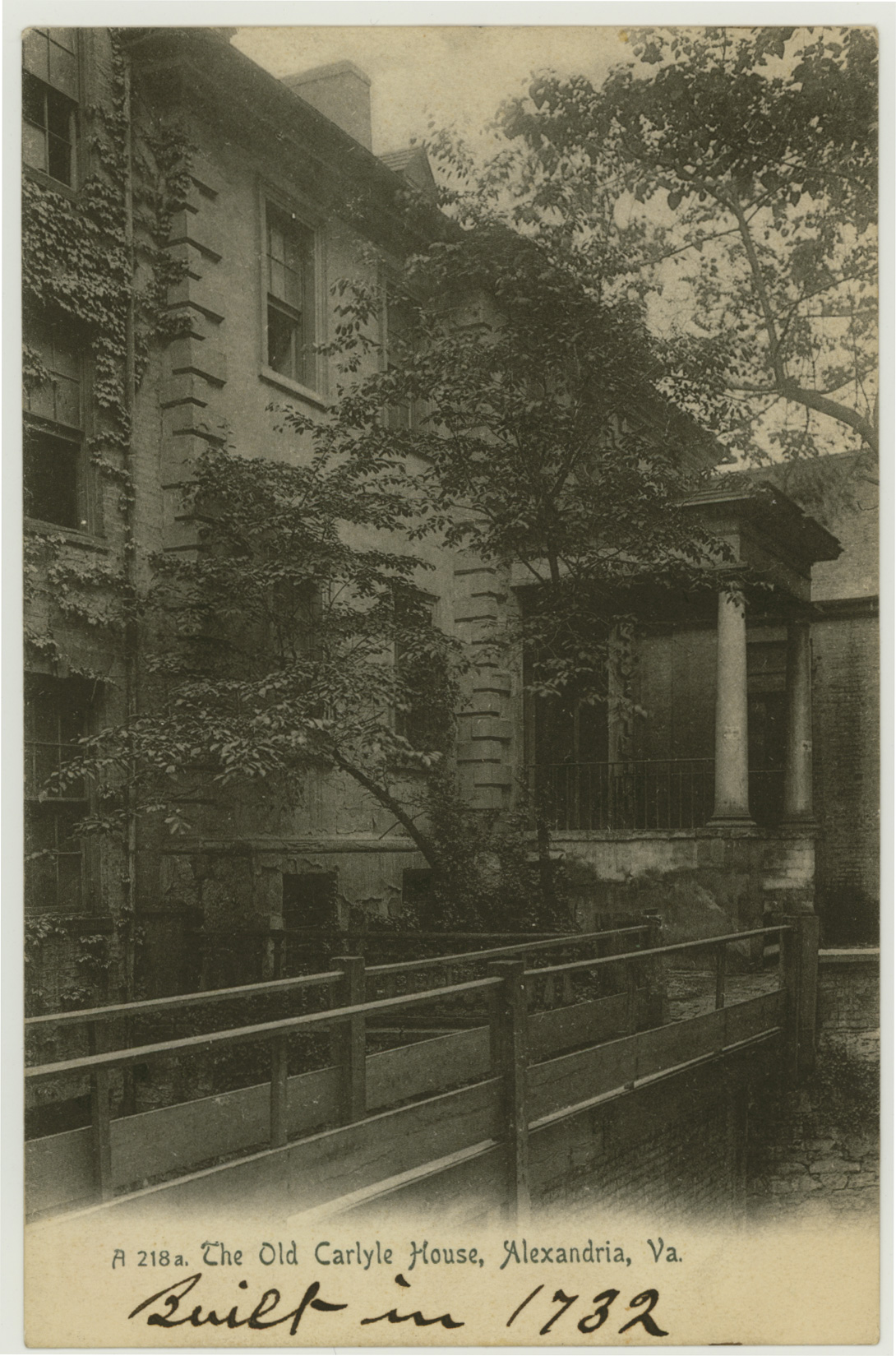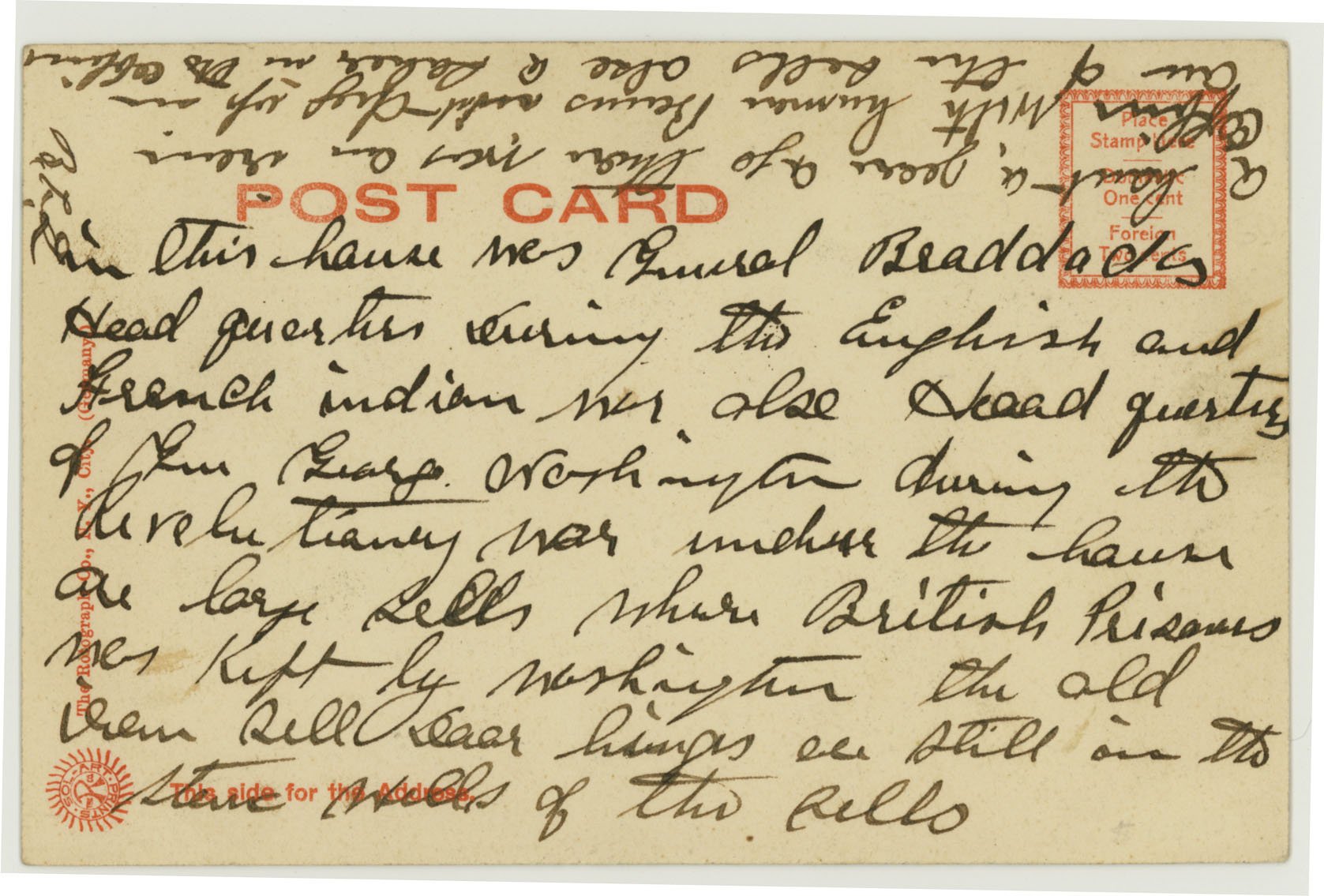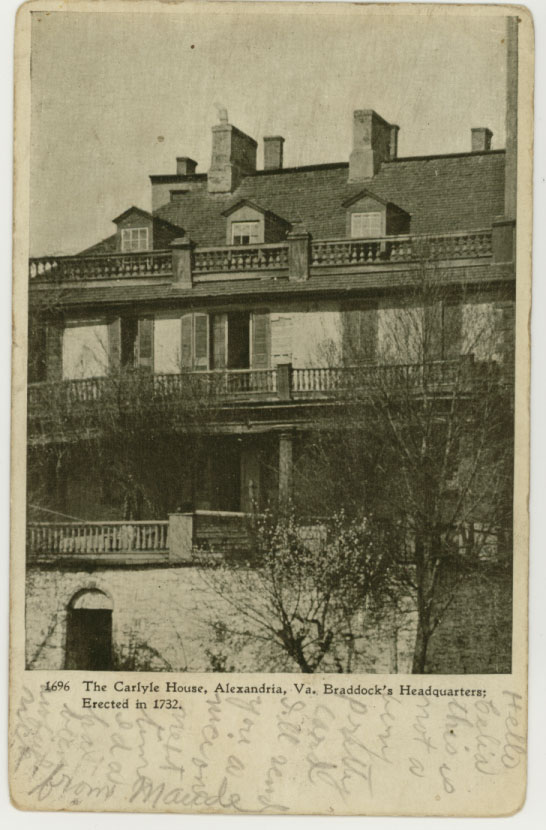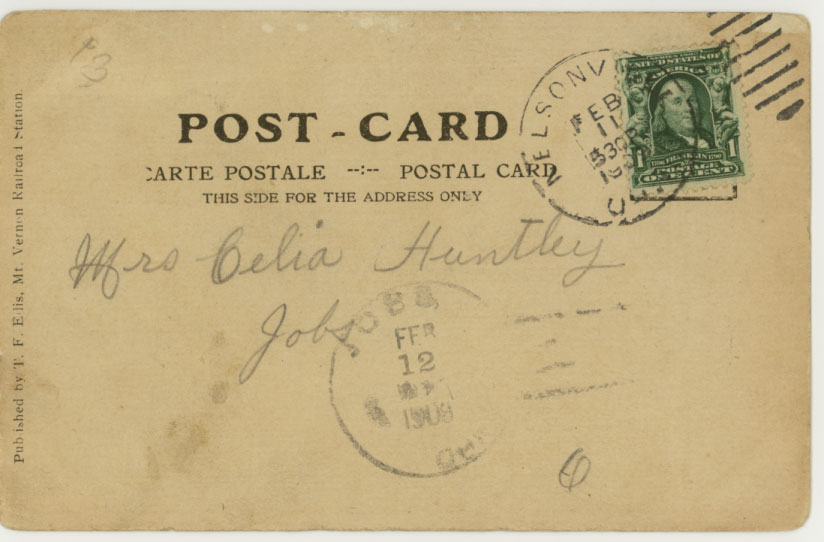 From Richard Wright: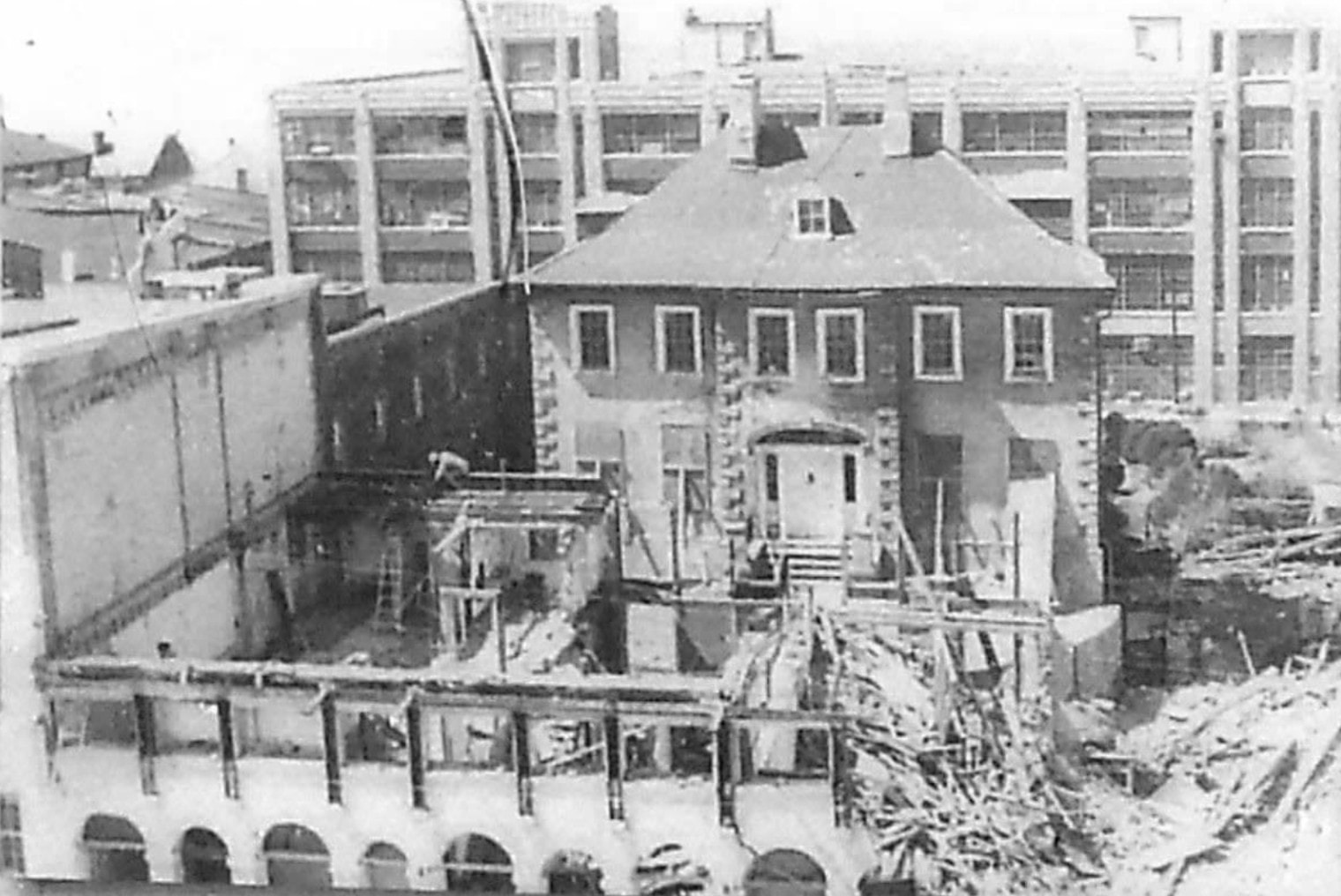 3. John Carlyle was a successful Alexandria entrepreneur (I have a soft spot for those). He married into the Fairfax family. His wife gave birth to their first child on the day they moved into Carlyle House. The NoVa Parks website has this to say about him:
John Carlyle was born in 1720, the second son of a landed British family with strong Scottish ties. As a young man, he apprenticed with an English merchant firm and by 1741 arrived in Virginia as a factor, or representative, for William Hicks. John Carlyle came to Virginia hopeful of making "a fortune sufficient...to live independent." Carlyle's ensuing financial success was matched by his good fortune in his 1747 marriage to Sarah Fairfax, a young lady from one of the most influential families in colonial Virginia. Carlyle's extensive business activities included import and export trade to England and the West Indies, retail trade in Alexandria, an iron foundry in the Shenandoah, and a blacksmithing operation.

Through his growing business and social ties, Carlyle emerged as a leading political figure in northern Virginia and counted such luminaries as George Washington among his friends. Carlyle owned thousands of acres of land throughout Virginia, including three working plantations. He served as one of the original Trustees of Alexandria, the commissary for the Virginia militia during the French and Indian War and the Revolutionary War, and a justice of the peace for Fairfax County. His wealth, social and business activities, and political service established him as a member of the colonial Virginia gentry. As a town founder and civic leader, John Carlyle's story captures the entrepreneurial spirit of early America.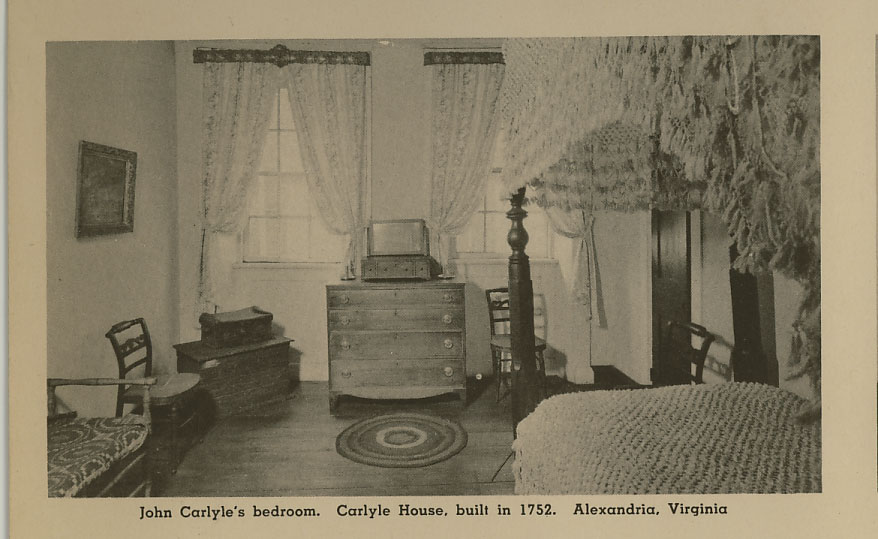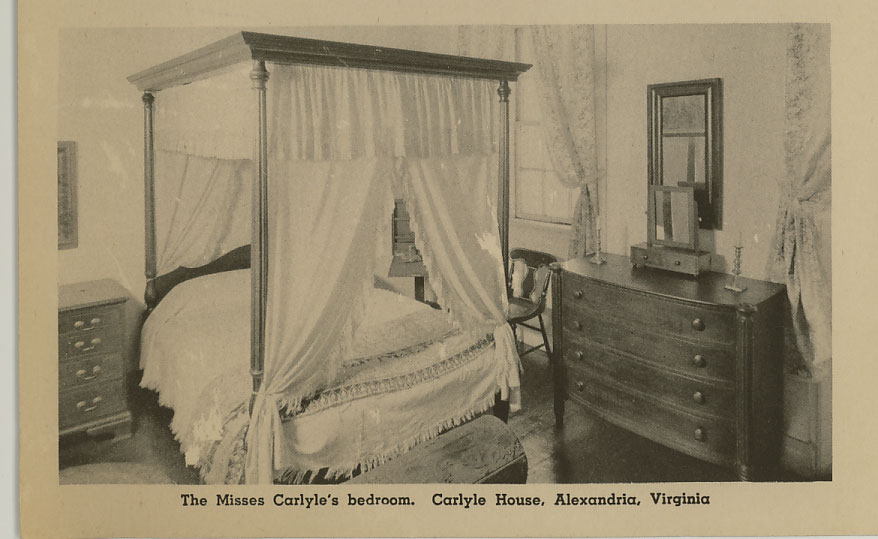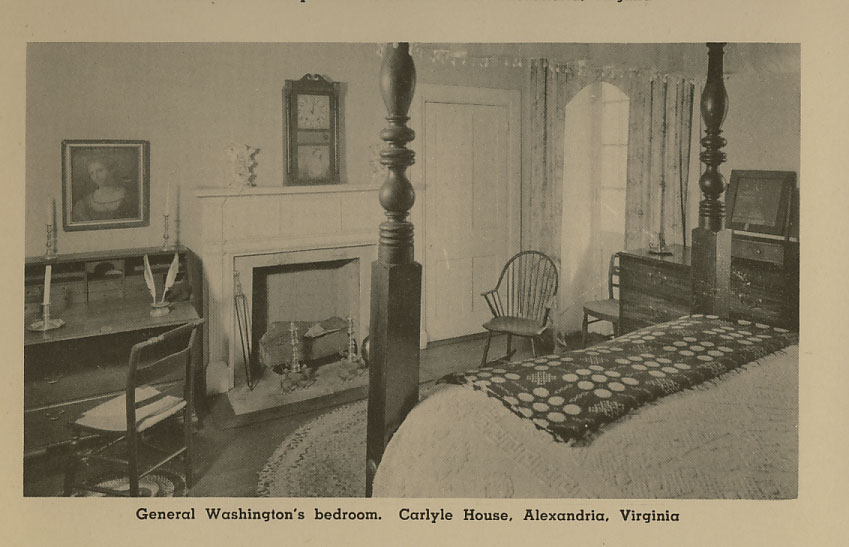 2. England's involvement in the French and Indian War was planned at Carlyle House. When British General Edward Braddock arrived in Virginia with 1200 troops, he chose Carlyle House to stay for several weeks to plan the attack on Fort Duquesne, now Pittsburgh. Five Governors would meet at the house and agree on a plan for attack. That attack in 1755 would leave General Braddock dead and young George Washington a hero, having had four bullets pass through his coat and two horses shut out from under him.
A Native American chief would later say:
"I am a chief and ruler over my tribes. My influence extends to the waters of the great lakes, and to the far blue mountains. I have traveled a long and weary path, that I might see the young warrior of the great battle. It was on the day when the white man's blood mixed with the streams of our forest, that I first beheld this chief. I called to my young men and said, "Mark yon tall and daring warrior? He is not of the red-coat tribe - he hath an Indian's wisdom, and his warriors fight as we do - himself alone is exposed. Quick, let your aim be certain, and he dies." Our rifles were leveled, rifles which, but for him, knew not how to miss ... 'Twas all in vain; a power mightier far than we shielded him from harm. He cannot die in battle. I am old, and soon shall be gathered to the great council fire of my fathers in the land of shades, but ere I go, there is something that bid me speak in the voice of prophecy: Listen! The Great Spirit protects that man, and guides his destinies - he will become the chief of nations, and a people yet unborn will hail him as founder of a mighty empire."
That battle had an enormous impact on George Washington. From Wikipedia as well as main image.
Braddock was borne off the field by Washington and Col. Nicholas Meriwether, he died on 13 July from wounds suffered in the battle. Before he died, Braddock left Washington his ceremonial sash that he wore with his battle uniform, as well as his two pistols. Some of his last words were, "Who would have thought?" Reportedly, Washington always took this sash with him for the rest of his life, both as the commander of the Continental Army or for his presidential duties. It is still on display today at Washington's home on the Potomac River, Mount Vernon.

Braddock was buried just west of Great Meadows, where the remnants of the column halted on its retreat to reorganize. He was buried in the middle of the road that his men had just cut through and wagons were rolled over top of the grave site to prevent his body from being discovered and desecrated by the Indians. George Washington presided at the burial service, as the chaplain had been severely wounded.
John Carlyle would say of Braddock's stay at Carlyle House that Braddock was "too fond of his passions, women and wine..." and that while in his house, the general had "abused his house and furnishings..."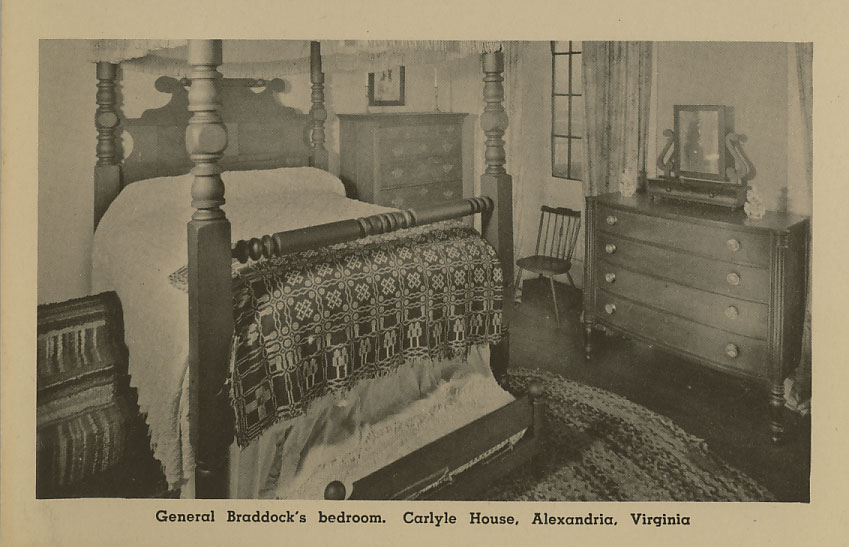 1. Carlyle House was a hospital during the Civil War, and the PBS show Mercy Street was based on it. A Civil War-era photograph of Mansion House Hospital appears below. Here's a link to the Mercy Street homepage, where the shows can be streamed for a fee.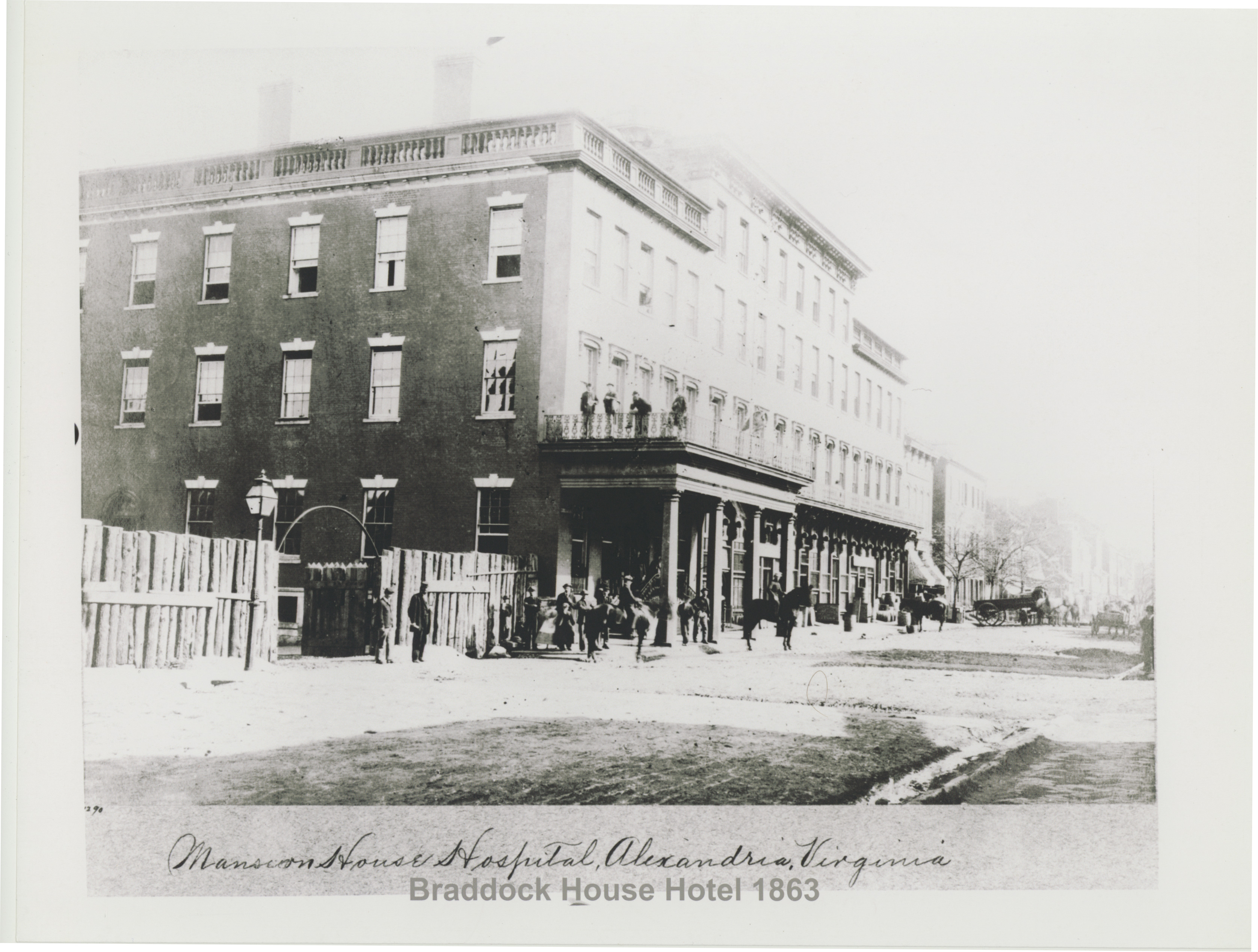 From the NoVa Parks website discussing James Green, owner of the Mansion House Hotel:
[T]he Union Army evicted Green and his family from both the hotel and their home, Carlyle House. The Union converted the hotel into a hospital for Union soldiers, and used the mansion as quarters for doctors and high-ranking officers. One Alexandria citizen described Green's situation in the following way: "one of the greatest sufferers by the present occupation of Alexandria by the Hessians is Mr. James Green...Just after the Battle of Bull Run they occupied his Hotel (the largest and finest in the City) and after abusing it most shamefully left the premises in such disorder, as to require great repairs and months of cleansing, and he had scarcely reopened it when they demanded its evacuation to which he was compelled to accede, and voluntarily offered him a large rent, but was told, upon the first months rent coming due, that his rent money was ready whenever he would take the oath of allegiance to the US. Of course, the rent remains unpaid." (1862 diary of Henry Wittington, Alexandria).