Alexandria was George Washington's hometown in many ways. He helped create the town, he helped layout its streets, he owned properties here, he conducted business here, he celebrated here, he worshiped here, and he led troops here. Ultimately, he became fatally ill, died, and was buried at his nearby home, Mount Vernon.
When he died in 1799, sixty-nine days of mourning were declared by Congress, extending until the date of his birthday. His birthday is still celebrated in Alexandria to this day (today).
Here we see a favorite item from the OurHistoryMuseum collection. It's an engraving by John A. O'Neill based on a William Joseph Williams portrait, painted from life. The painting hangs nearby at the National Portrait Gallery, and here is their description of it, complete with a rather cranky quotation from President Washington himself:
In July 1792, Washington turned down a request for a sitting from American artist William Joseph Williams, telling Governor Henry Lee of Virginia:
"I am so heartily tired of the attendance which, from one cause or another, I have bestowed on these kind of people, that it is now more than two years since I have resolved to sit no more for any of them; and have adhered to it; except in instances where it has been requested by public bodies, or for a particular purpose (not of the Painters) and could not, without offence, be refused. I have been led to make this resolution for another reason besides the irksomeness of sitting, and the time I lose by it, which is, that these productions have, in my estimation, been made use of as a sort of tax upon individuals, by being engraved, and that badly, and hawked, or advertised for Sale."
Williams then offered to paint Washington's portrait for the Alexandria (Virginia) Masonic Lodge No. 22. Lodge officers wrote Washington in 1793 that it would be "a source of the most refined gratification the tracing out and contemplating the various ornaments of his character in the resemblance of his person."
Williams's portrait shows Washington as a Virginia past master, with Masonic regalia and jewels. Williams's careful depiction includes a scar on Washington's left cheek, smallpox scars on his nose and cheeks, and a mole under his right ear.
The full engraving is below, followed by the zoomed-in version of the text, which is then followed by an image of the original painting.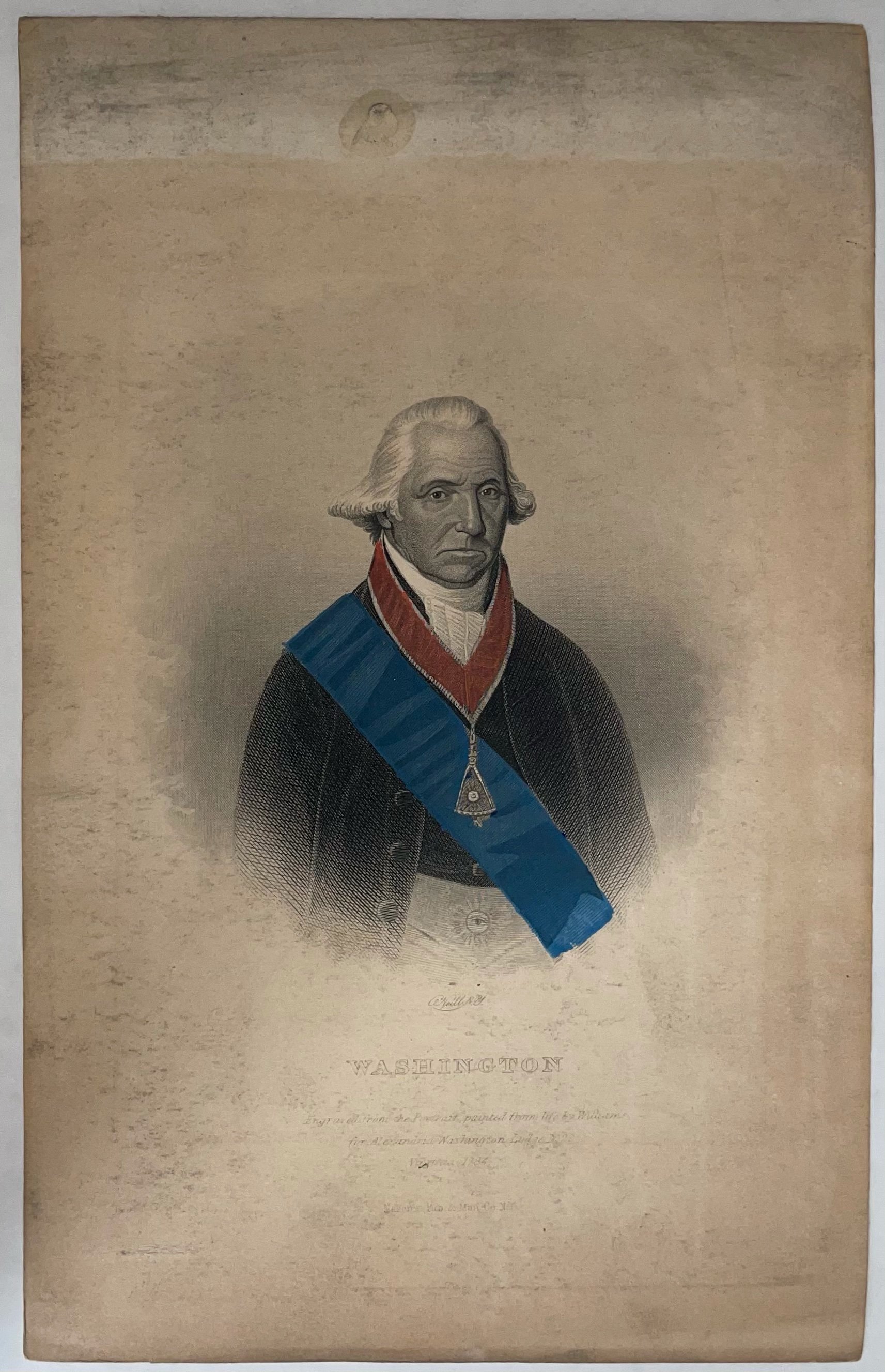 The text reads:
Washington
Engraved from the portrait painted from life by Williams
for Alexandria, Washington Lodge number 22
Virginia 1794
Masonic Pub. & Man. Co. N.Y.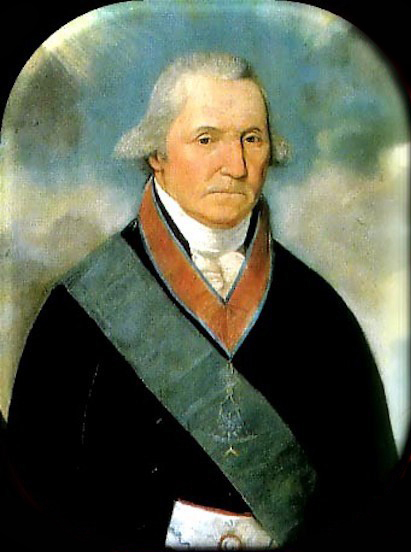 Happy Birthday, President Washington.